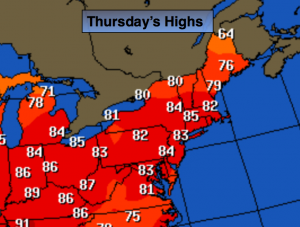 Synopsis:
Fall will begin just as Summer ended-warm. A warm bubble of high pressure continues to sit over the Northeast. These above average temperatures will stick around through Friday.  A significant cool front will arrive Saturday.  It will be noticeable with readings at lest ten to fifteen degrees cooler.
The Autumnal Equinox occurred today at 10:21am. This is the exact time the sun's direct rays cross from North to South over the equator.  There is just about equal day and night.
Today:
Sunny and warm with readings in the mid 80s. Northeast to Southeast wind at 5-10mph.
Tonight:
Mostly clear.  Lows in the mid to upper 60s in the City, the lower 50s inland. Light & Variable Winds.
Friday:
Sunny with highs in the mid 80s.
Saturday:
Mostly sunny and seasonal. Highs in the lower to mid 70s.
Sunday:
Mostly sunny and much cooler with readings around 70º.
Monday:
Mostly sunny with highs near 70º.
Stay Tuned.
Keep it here for a no nonsense, no hype forecast.