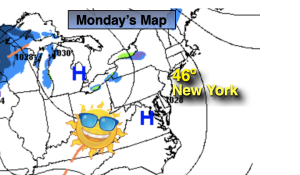 Synopsis:
Today will most likely be the chilliest day of the season so far as Canadian high pressure noses in. The chill will continue on Tuesday as the sun will give way to increasing clouds.
Low pressure will form over the Southeast and move up the coast Tuesday night and Wednesday morning. Rain will likely develop by dark Tuesday and continue into early Wednesday morning. The sun will return by late morning.
Sunshine will dominate on Thursday and Friday as unseasonably cold air funnels in from Canada courtesy of high pressure.
We are stuck in this cold pattern for quite some time, possibly as long as right before Thanksgiving.
Stay tuned.
Keep it here for a no hype, no nonsense forecast.
Monday:
Sunny. Chilly. Highs in the mid 40s. Northwest winds diminishing to 5-10mph.
Tonight:
Clear and cold. Lows in the mid 30s in the City. The 20s inland. North wind at 5mph or less.
Tuesday:
Sun to clouds. Rain possible by dark. Highs in the mid to upper 40s.
Wednesday:
Morning rain to sun. Highs around 50º.
Thursday:
Mostly sunny. Highs in the mid to upper 40s.
Friday:
Mostly sunny. Highs in the mid 40s.