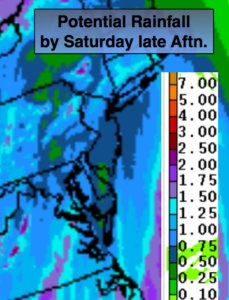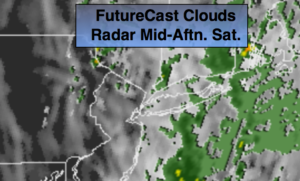 Synopsis:
A strong Southerly flow around high pressure in the Atlantic and a deep trough in the East will result in balmy conditions tonight. Spotty showers will give way to a waves of steadier and heavier rain tonight into Saturday as a storm develops over the central Appalachians and moves North. At the same time a front will be sweeping into the area. Thunderstorms are possible as well. Where the plume of heavy rain sets up is yet to be determined. Flooding is a concern, especially in areas that received heavy rain earlier this week. A Flash Flood Watch is in effect for Friday Night and Saturday for the entire tri-state area. The potential is there for one to two inches of rain. The rain should taper off during the afternoon on Saturday from West to East. At least the last half of Passover will be dry.
Easter Sunday will feature a mix of clouds and sun. A spot shower can't be ruled out as an upper level low moves over the area.
On Monday, the upper low looks to stall for a time. Some of the models redevelop a low just off the coast. If this pans out Monday will feature showers.
Tuesday will be partly sunny and much warmer.
Keep it here for a no nonsense, no hype forecast.
Stay tuned.
Tonight: 
On and off rain and scattered thunderstorms. Some of the rain will be torrential. Warm. Lows in the 60s throughout. South wind at 15-25mph.
Saturday:
Rain and possible thunderstorms. The rain will taper off during the afternoon. Highs in the upper 60s.
Easter:
Clouds and sun. Spotty showers. Highs in the mid 60s.
Monday:
Mostly cloudy with showers possible. Highs in the mid 60s.
Tuesday:
Partly sunny. Warm. Highs in the mid to upper 70s.
Wednesday:
Partly sunny. Scattered late day showers. Highs around 70º.