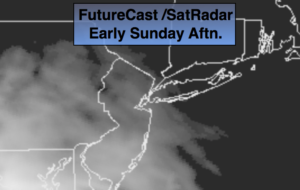 Synopsis:
High pressure will dominate our weather through Sunday. It'll be mostly clear and cold overnight. Sunday will start off with sun but clouds will increase during the afternoon.
Weak low pressure will move to our South Sunday night and off the coast Monday. Light snow will develop Sunday evening and go over to a mix and possibly all rain along the coast at night.  On Presidents' Day a mix or light rain is expected with light snow North during the morning. A dusting to 2″ of snow is possible. Skies will remain mostly cloudy.
Tuesday will feature a mix of sun and clouds as high pressure over Eastern Canada dominates.
The next system will move out of the Gulf states Tuesday and head Northeast. At this time, there is a potential for snow or a mix Wednesday. The system doesn't look strong. A light mix or rain is possible Thursday morning as the low moves off the coast.
Keep it here for a no nonsense, no hype forecast.
Tonight:
Clear. Lows in the upper 20s in the City, the teens and 20s inland. Light North wind.
Sunday:
Sun to clouds. A period of light snow or mix at the coast at night. Highs in the upper 30s.
Monday:
Light snow mix in the morning, rain at the coast, otherwise remaining mostly cloudy. Highs around 40º.
Tuesday:
Partly sunny. Highs in the upper 30s.
Wednesday:
Light snow, mix developing during the afternoon. Highs in the mid 30s.
Thursday:
Morning mix or light rain, otherwise mostly cloudy.  Highs in the lower 40s.