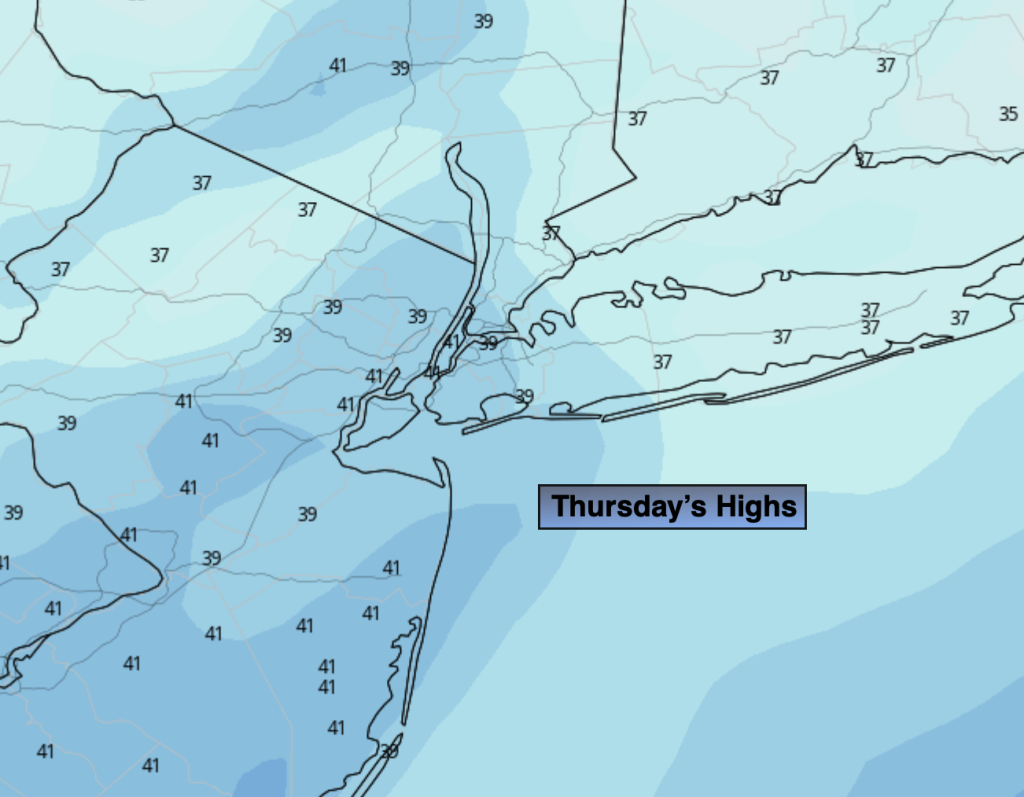 Synopsis:
January 2023 has come to a close and is the warmest January on record for Central Park. This is a 154 year old record. Record keeping began in 1869. Simply amazing. The old record was January 1932, the mean temperature for that month was 43.2º. This January the mean temperatures was a sultry 43.5º.
A tranquil Ground Hog Day is in the forecast for Thursday as weather systems will be weak over the Northeast.  Readings will moderate some and skies will be bright.
An arctic front will push through Friday morning. Remember back to Christmas Weekend?  This will be a similar blast with high temps starting off around 30º during the morning and free falling into the teens by late day. An isolated snow squall is possible during the first half of the day. Wind chills by the evening will be near zero. A slap in the face heading out doors for sure.
Frigid sunshine will greet us for the first Saturday of February. A strong Arctic high will settle over the region. Temperatures will remain at least ten to fifteen degrees below average for afternoon highs.
Readings will soar on Sunday as the Arctic high rapidly moves offshore and a return Southwest flow develops. Readings will be at around twenty degrees higher than Saturday. The latter half of the weekend will definitely be the better half.
Stay tuned.
Keep it here for a no hype, no nonsense forecast.
Tonight:
Clear and cold. Lows in the mid to upper 20s along the urban corridor, the teens inland. North to West winds at 5mph.
Thursday:
Mainly sunny. Highs in the lower 40s. West to Southwest winds at 8-15mph.
Friday:
Mostly sunny, windy and turning sharply colder. An isolated snow squall is possible during the first half of the day. Tumbling temperatures during the afternoon. Early morning highs around 30º falling into the teens by evening.
Saturday:
Frigid sunshine. Highs 20º-26º.
Sunday:
Partly sunny. Much milder. Highs in the lower to mid 40s.
Monday:
Partly sunny. Mild. Highs in the mid 40s.