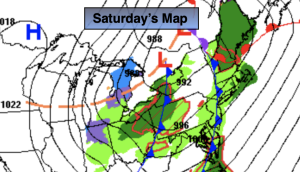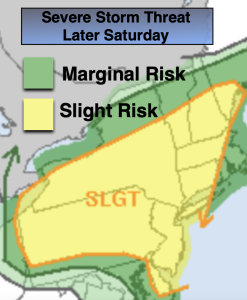 Synopsis:
Spotty showers are in the forecast for tonight as warm front moves to our North. Overnight lows will actually remain steady or rise. A mild night for sure.
April's debut will be warm. Showers are possible, especially in the morning on Saturday as strong low pressure treks from the Great Lakes into Southeastern Canada. A balmy Southerly wind will prevail (with readings around 70) and this ain't no joke for April Fool's Day. Much of the afternoon will be dry. As a strong cold front approaches Saturday evening showers and a few thunderstorms are possible. Some of the storms maybe isolated severe with winds in excess of 58mph. Please keep an eye to the sky for threatening weather later in the day tomorrow (4pm-8pm).
Sunday will be the cooler half of the weekend with a Canadian airmass moving in, at least it'll be sunny.
Temperatures will rebound nicely on Monday and Tuesday as high pressure moderates and the sun dominates.
A warm Wednesday is on tap. A mix of sun and clouds is expected with a chance of afternoon showers.
Stay tuned.
Keep it here for a no nonsense, no hype forecast.
Tonight:
Spotty showers. Much milder. Lows in the 50s in the City, the 40s to around 50º inland. South to Southwest winds at 8-12mph.
Saturday:
Morning showers. Peeks of sun by midday through the afternoon. Warm and windy.  Highs around 70º. Chance of showers and spotty thunderstorms in the evening. Some of the storms could turn isolated severe. Winds Southwest increasing 15-30mph.
Sunday:
Sunny. Much cooler. Highs in the lower 50s.
Monday:
Sunny. Milder. Highs in the lower 60s.
Tuesday:
Partly sunny. Mild. Highs in the mid 60s.
Wednesday:
Partly sunny. Warm. Chance of afternoon showers. Highs in the upper 60s.