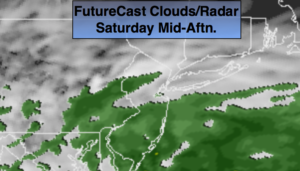 Synopsis:
This weekend forecast has been a challenge to say the least. At first, it was looking like Saturday was the wetter of the two days of the weekend. Now its the opposite-Sunday will have more precipitation than Saturday. Alright, enough of the griping.
A strong upper level low will spawn two areas of low pressure this weekend. Low pressure #1 will move off the Virginia coast by Saturday midday. This will result in a broken area of light rain tonight into Saturday morning. Any rain should quit by midday and the sun may make an appearance especially North of the City. The majority of the afternoon will be dry. It'll be mild.
Low pressure #2 will develop under the upper level low and move off the Maryland coast then up off Eastern Long Island on Sunday and Sunday night. This is much closer than previous model runs. Also the upper level low is more vigorous and closer to the tri-state area. What does all of this mean?  Rain will develop early Sunday morning. The potential is now there for it to be marginally cold enough for a mix of wet snow and sleet well inland during the day Sunday. If the conditions are just right an accumulation of snow is possible inland and possibly toward the nearby suburbs of NYC. As of this writing I'm calling for rain along the coast and in the City. Please check back frequently as this forecast will most likely change over the next 36 hours.
Looking down the pike, a cool down is expected by Tuesday, no major storms are expected through Thursday.
You know where to find a no hype, no nonsense forecast.
Stay tuned.
Tonight:
Periods of light rain. Much warmer than recent nights. Lows in the mid 40s in the City (thats the actual average high for the date), the 30s inland. Light and variable winds.
Saturday:
A bit of morning rain, otherwise the remainder of the day will be dry. A bit of sun may shine, especially North and West of the City. Highs around 50º. Northeast winds at 5-10mph.
Sunday:
Periods of rain. Wet snow and sleet possible inland. Highs around 40º in the City, the 30s inland.
Monday:
Partly sunny, becoming windy. Seasonal. Highs in the mid 40s.
Tuesday:
Partly sunny, seasonal. Colder. Highs in the mid 30s.
Wednesday:
Mostly sunny. Cold. Highs in around 40º.
Keep it here for a no nonsense, no hype forecast.