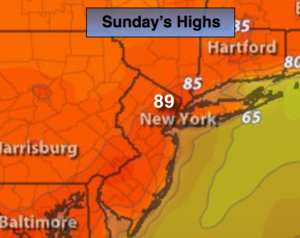 Synopsis:
High pressure will continue to influence the Northeast this first weekend of Autumn. This area of high pressure is large and of warm origin. This will result in readings well into the 80's to lower 90's in urban areas of NJ. Temperatures will flirt with record highs today The record for Central Park is 89º. The average high for this time of the year is 73º. The humidity will be up a notch from yesterday adding to the discomfort.
Summer-like readings will stick around through midweek as the strong high pressure moves slowly off the coast. The humidity will be high. At the same time, Hurricane Maria will be moving North up and off the Southeast coast. Maria as of this writing is a category 2 hurricane with winds of 105mph. The latest computer guidance has the track to the North and Northwest. This is a result of a strong ridge of high pressure to the North and East of the storm. The big question is how fast does the hurricane get to the latitude of the Outer Banks? A trough of low pressure will be swinging in from the Great Lakes mid-week. If the hurricane gets North quick enough it may graze the Mid-Atlantic and Northeast coast before the trough moves in. If it's slower, the trough will push the hurricane off the North Carolina coast out to sea. At this time it's a wait and see situation with the out to sea solution a little stronger than up the coast. I NEVER let my guard down until a hurricane is North of our latitude. The hurricane should swing off the East coast by Thursday as a cool front moves in. This will finally bring a refreshing airmass down from Canada-yes, feeling more like Fall.
Stay Tuned.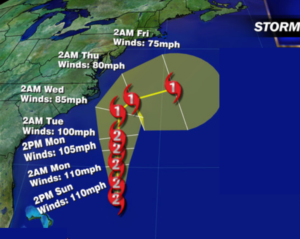 Today:
Mostly sunny and hot with record breaking temperatures likely. Highs around 90º cooler at the coast. North wind to Southeast at 5-10mph.
Tonight: 
Clear and mild. Lows in the lower 70s in the City, the 60s inland. Southeast winds under 5mph.
Monday:
Mostly sunny, warm and humid. Highs in the mid 80s.
Tuesday:
Partly sunny, warm and humid. Highs in the mid 80s.
Wednesday:
Clouds and some sun, humid. Showers are possible. Highs in the lower 80s.
Thursday:
Mostly sunny. Much less humid. Highs in the upper 70s.
Keep it here for a no nonsense, no hype forecast.