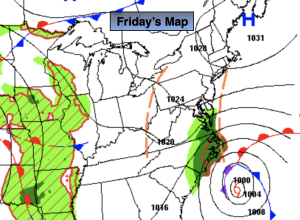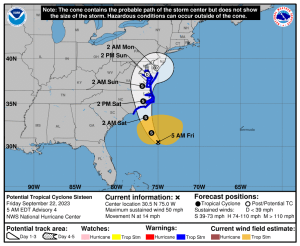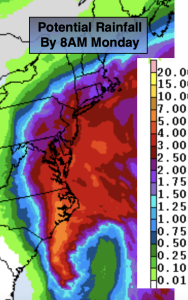 Synopsis:
High pressure off the Northeast coast will provide the region with delightful conditions on this last day of Summer. Sun and high clouds is expected with with readings a few degrees below the average high of the mid 70s.
It's looking like a wet start to our new season of Fall. Autumn arrives at 2:50AM EDT Saturday. Low pressure (which should become a tropical storm today) off the Southeast coast will move into Eastern North Carolina by midday Saturday. Rain will move from South to North within a few hours of sunrise Saturday. Gusty winds are expected on Saturday as the pressure gradient tightens between the low to the South and high pressure over the Atlantic. Winds could gust in excess of 50mph along the NJ coast, 40mph wind gusts are likely elsewhere. The brunt of this first part of the storm will be midday into the afternoon on Saturday. Bands of heavy rain will move through. This low will be stubborn to exit resulting in the threat of on and off rain for Sunday into Monday. This will be the actual circulation of the storm's remnants moving through-part two of the event. Winds will have diminished some. The potential for one to three inches of rain exists for the 48 hour period. Flash flooding is possible.
By Tuesday the system will finally have moved off the coast and high pressure will nose in from the North. A mix of sun and clouds is expected with cool readings.
Stay tuned.
Keep it here for a no nonsense, no hype forecast.
Friday:
Sun and afternoon high clouds. Highs around 70º. East to Northeast winds at 8-15mph.
Tonight:
Cloudy with light rain developing toward dawn from the City and to the South. Lows in the 50s throughout. Northeast winds at 10-20mph with higher gusts at the coast.
Saturday:
Rain. Possibly heavy at times. Windy, especially at the coast. Highs in the lower 60s.
Sunday:
On and off rain. Highs in the mid 60s.
Monday:
Threat of early rain to showers. Highs in the upper 60s.
Tuesday:
Partly sunny. Highs in the mid to upper 60s.