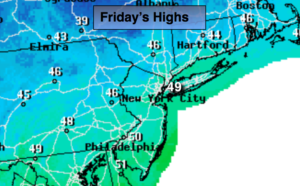 Synopsis:
A cold front has moved through the area. Skies will be mostly clear tonight and it will be colder than recent nights. A gusty wind will add a bite.
High pressure will move for Friday bringing with it cooler and sunny conditions.
High pressure  will slip offshore Saturday. The return flow will pump up mild air from the South. A cold front will approach during the afternoon with any sun giving way to showers by afternoon. Saturday will to be a washout. In fact, much of the day should be dry. The showers will continue Saturday night and into Sunday Morning. The sun should return Sunday afternoon.
Looking down the pike into Thanksgiving week it looks tranquil through Thanksgiving with the rollercoaster ride in temperatures continuing.
Stay tuned.
Tonight:
Mostly clear and colder than last night. Breezy. Lows in the upper 30s in the City, near 30º inland. Northwest winds at 15-25mph with gusts to 30mph.
Friday:
Mostly sunny, breezy and cool. Highs in the upper 40s. Northwest winds at 15-25mph and diminishing during the afternoon.
Saturday:
Morning sun will give way to scattered afternoon showers. Mild. Highs in the mid to upper 50s.
Sunday:
Morning showers will give way to afternoon sun. Highs lower 50s during the morning. Temperatures will fall into the 40s during the afternoon.
Monday:
Partly sunny, cooler. Highs in the lower to mid 40s.
Tuesday:
Mostly sunny, milder. Highs in the lower 50s.
Keep it here for a no nonsense, no hype forecast.