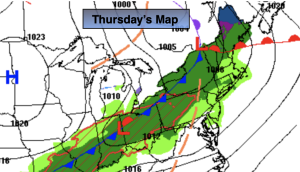 Synopsis:
Above average temperatures will continue through the end of the week as a Southerly flow continues around offshore high pressure. A weak disturbance will move along a cool front to the Northwest today resulting in showers just about anytime. Skies will brighten at times and readings will be well above average. A warm early Spring day indeed.
Scattered showers will be around overnight. It'll be mild.
The cool front will move into the region Friday morning and weaken considerably. Clouds will give way to sun and highs will still be several degrees above the average high of 52º.
On Saturday, low pressure will develop over the Ohio Valley and move into the Great Lakes. On and off showers with areas of drizzle are likely with readings below average.
Sunday will be the brighter half of the weekend as high pressure dries the Northeast out. It'll be mild as well.
It'll be a tranquil start to the week as high pressure moves in.
Stay tuned.
Keep it here for a no nonsense, no hype forecast.
Thursday:
Clouds and sun. Warm. Spotty showers possible. Highs in the lower to mid 60s. Cooler over Long Island and coastal Connecticut. Southwest 8-12mph gusts to 20mph.
Tonight:
Mostly cloudy. A few showers possible. Lows in the 40s to around 50º in the City. Southwest to Northwest winds at 8-12mph.
Friday:
Clouds and sun. Mild. Highs in the mid 50s.
Saturday:
Cloudy with scattered showers and areas of drizzle. Cooler. Highs in the upper 40s.
Sunday:
Sunny. Mild. Highs in the mid to upper 50s.
Monday:
Sunny. Highs in the mid to upper 50s.