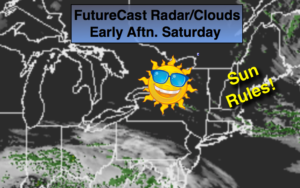 Synopsis:
A persistent Northwesterly flow will continue resulting in colder than average temperatures right through the weekend. The culprit, a stationary storm in Eastern Canada and high pressure nosing in from central Canada. Sunny skies are expected for the last weekend of Winter (that sounded good). Winds will not be as busy.
The threat of a storm affecting the area continues Tuesday and Wednesday, although the latest computer guidance has diminished that threat some. At this time it is too early to determine how much rain and or snow will fall.  The models do have an area of low pressure on the map over the Eastern states, but where does it go?  Where does the secondary redevelopment occur & does it stay just far enough South to spare the region?  These questions need to be answered.  Also, the sun angle will play into the equation of how much snow will stick during the daylight hours (it has to snow at a very good rate for snow to accumulate during the day). Strong winds and coastal flooding is also a possibility. At this time, be aware that the Tuesday into Wednesday time frame could be hazardous.
Stay tuned.
Today:
Sunny. Highs in the mid 40s. West to Northwest winds at 10-20mph.
Tonight:
Mostly clear. Breezy. Lows near 30º in the City, near 20º inland. Northwest winds diminishing to 5-10mph.
Sunday:
Sunny. Highs in the mid 40s.
Monday:
Mostly sunny. Highs in the mid 40s.
Tuesday:
Thickening clouds. Chance of rain, wet snow & sleet. Highs in the upper 30s. Windy.
Wednesday:
Chance of rain, wet snow & sleet. Highs in the mid 30s. Windy
Keep it here for a no nonsense, no hype forecast.