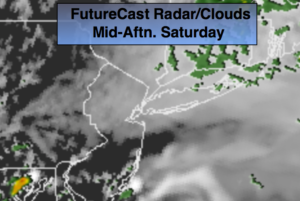 Synopsis:
A warm front will move over the region today. On and off showers is expected. Spotty storms are possible in the afternoon. I don't think it'll be a washout and there maybe several hours of dry time throughout the day. Scattered showers are possible tonight.
Sunday will be the better half of the weekend with more sun and warmer readings as a cool front approaches. Spotty showers are possible later in the day.
The  beginning of the workweek looks a winner with plenty of sunshine and warm temperatures as high pressure moves in. Hot times will be in our future by the end of the week.
Stay tuned.
Today:
Cloudy with on and off showers and possible spotty afternoon thunderstorms. There will be dry times. Cool. Highs in the lower 70s. Northeast winds at 5-10mph.
Tonight:
Cloudy with scattered showers.  Lows in the 60s throughout. Winds Northeast 5mph.
Sunday:
Sun and clouds. Warmer. Spotty PM Showers. Highs in the mid 80s.
Monday:
Partly sunny and pleasant. Highs in the lower 80s.
Tuesday:
Sunny. Highs in the lower 80s.
Wednesday:
Partly sunny. Warm. Highs in the mid 80s.
Keep it here for a no nonsense, no hype forecast.