Sun & Clouds Saturday. Comfortable…
Sct'd Evening Showers from City South & West…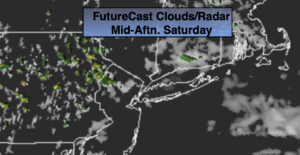 6/11/21 4:50PM
Synopsis:
There will not be a dominant weather system affecting our area the next several days. What this means is…
---
Virtual Weather Assembly
For an educational, highly dynamic weather assembly have your school become a part of "John's Weather Tour"!  Meteorologist John Marshall  with over 20 years of on-air experience will bring the mobile weather studio to your school. STEM/STEAM infused assembly!