Spring-like Temperatures Once Again on the Way…
April Feel Wednesday…
Updated: 2/21/2017 4:11PM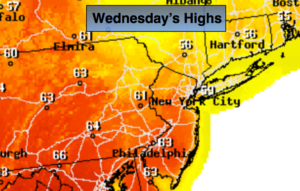 Synopsis:
A warm front will move into the region tonight with isolated showers late. Another push of warm air will reach the region tomorrow through Saturday. Spring fever will once again take hold as the mercury soars. Looking down the pike colder temperatures will make a comeback by Sunday…
Catch John's Forecast on Ch.2 WCBS TV on the Weekends!
---
John's Weather Tour
For an educational, highly dynamic weather assembly have your school become a part of "John's Weather Tour"!  Meteorologist John Marshall  with over 14 years of on-air experience will bring the mobile weather studio to your school.