Virtual Weather Assembly via Zoom or Other Tele-Platforms:
Give your students something unique and entertaining at the same time with virtual learning with the Virtual Weather Assembly. I guarantee this will be the most memorable experience for them with learning from home.
I can connect with Zoom or other tele-platforms. The students are interacting with me "live" which is what makes this assembly so awesome. The teacher, principal and or IT person is in control with me on the other end. My green screen studio is setup and the students get to see the magic of how TV weather gets done. Age appropriate weather curriculum is presented in a highly dynamic fashion. They can ask questions, etc.
Berkeley Heights Students Treated to a Virtual Weather Assembly…
Weather Assembly Brings Education and Fun to BH Students
Submitted by Victoria Baum
Students at Thomas P. Hughes and William Woodruff Schools were treated to a virtual assembly entitled 'John's Weather Tour'. While the weather may be warming up, the assembly sure was cool!
Meteorologist John Marshall 'visited' the students via Zoom and gave presentations about different types of weather, explained the tools meteorologists use to predict weather, answered questions, and demonstrated green screen technology used in his broadcasts.
Woodruff Principal Patricia Gasparini shared, "We were thrilled to have weatherman John Marshall do the program he had scheduled for March. We had selected the program to complement the morning weather announcements done by our fifth graders daily. The two programs done for the grade levels were extremely informative, interactive, and highly engaging. John's personality, passion for reporting, and enthusiasm was felt by all. Much gratitude goes out to our PTO for supporting this program that brought us all together as a community."
Hughes Principal Jessica Nardi added, "This assembly was a great "feel good" experience for our students and their families! Thanks to Mr. Marshall's planning and the support of our district technology department, the students were able to ask/answer questions and interact with Mr. Marshall throughout the presentation. Our whole school community enjoyed this break immensely. A huge 'thank you' to Mr. Marshall and the PTO for supporting us and bringing smiles to our kids."
John Marshall has been on television for over 20 years and his accurate forecasts have been seen by millions in the New York tri-state area. John is currently freelancing for CBS2 in New York City.
These incredible assemblies were made possible thanks to the creativity and generosity of the Hughes and Woodruff PTO organizations.
Photo by Berkeley Heights Public Schools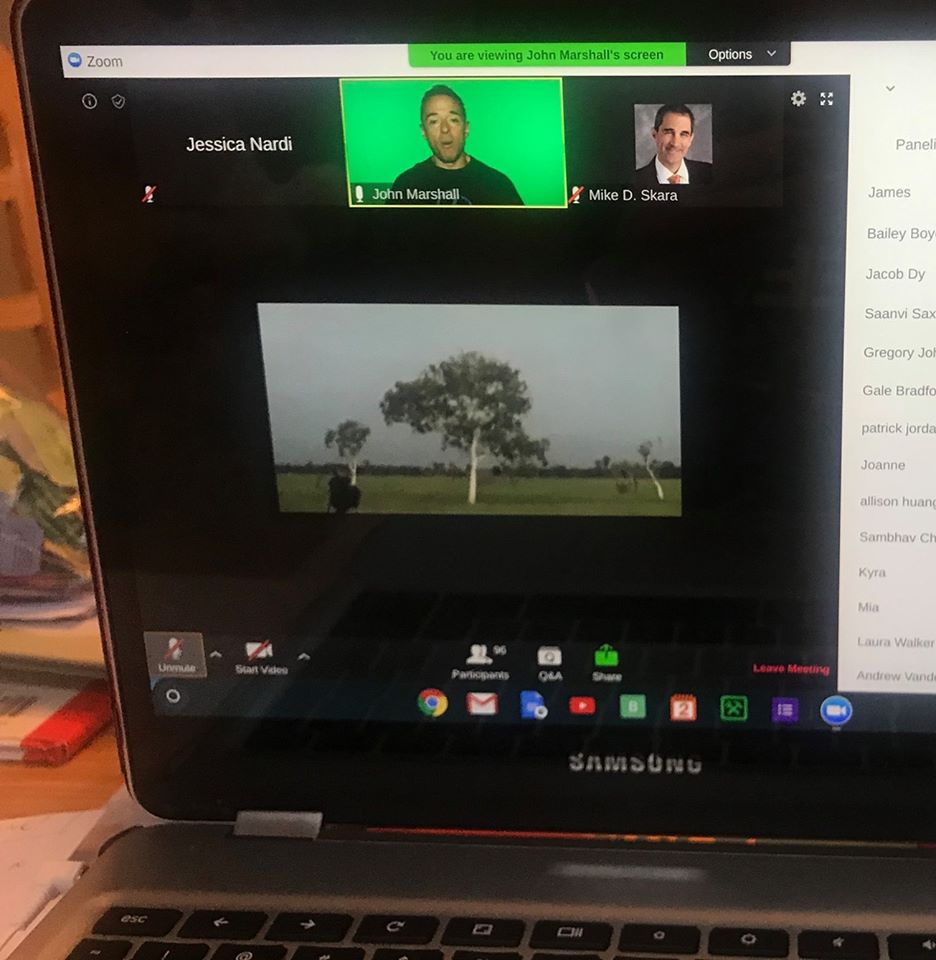 A Testimonial of the Virtual Weather Assembly from the Principal of Bogert School Below: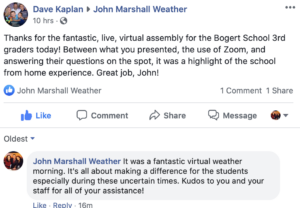 A student from West Ridge School, Park Ridge, NJ (picture above). Principal Kirkby's testimonial: "That was awesome! The kids needed something like this to break up the "monotony" of their day to day work. Thank you so much for your time."
The assembly consists of two parts:
Weather Education based on Next Generation Science Standards (NGSS).
The mobile weather studio comes to your school for the day. Your students will become weather casters for the day. STEM/STEAM infused assembly with green screen technology.
Elements of the assembly include the following:
Why is there weather?
Explanation of fronts.
Why are there seasons?
Types of storms.
Interaction with live weather station.
Types of clouds.
Types of precipitation.
What is a weather balloon?
Weather instruments.
How a forecast is made.
The water cycle.
Below: Elementary School Student taking a stab at the weather forecast!
Below: Elementary School Student taking a stab at the weather forecast!
Below: Middle School Student taking a stab at the weather forecast!
In the News…
Readington Township students Skype about weather
Booton Students are Weather Forecasters for a Day
The Center School "Weathers" the Storm with Meteorologist John Marshall
Testimonials
"Thank you so much for coming to Bradford School today to present the "Weather Tour" assembly what a wonderful experience it was for our students. You captured their attention immediately, and they got a real sense of your passion of meteorology…" [Read More]                            – Naomi Kirkman, Principal-Bradford School, Montclair
"Our students have described it as the best assembly ever.  It is rare that an assembly delivers what you hope,   from the advertisement and/or recommendations from other administrators.  The assembly matched the Next Generation Science Standards…" [Read More]
-Ronald L. Poles, Principal-Jefferson School, Summit
"The three programs that he presented were all tailored to the audience and kept our students engaged and entertained…" [Read More]
– Robert J. Magnuson, Principal- Oxford School
"Wow! Where do I start? Engaging, Fun, Exciting, Educational, and Common Core / NJ Core Curriculum Content Standards driven, that's how I would start my descriptions of Mr. John Marshall and his Weather / Science / Math Assembly…" [Read More]
-Ralph Errico, Principal- Franklin Elementary School
"The faculty and I were extremely impressed with your level of preparation and the manner in which you differentiated your program for our primary and upper elementary grades…." [Read More]
– Adam Silverstein, Principal- Manito Elementary School
"I would like to commend you for hosting the Bear Scouts of Readington Cub Scout Pack 1980 at the CBS Studios in New York City…" [Read More]
– Senator Kip Bateman
"Thank you so much for the absolutely fantastic weather assembly…" [Read More]
– Barbara Zabel, 7th grade science teacher- New Brunswick Middle School
Schools that are a part of John's Weather Tour…