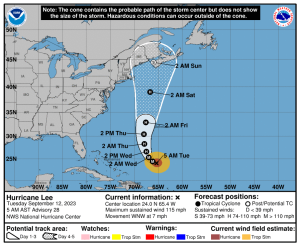 Synopsis:
The atmosphere will dry out today resulting in abundant sunshine. Humidity levels will come down some as weak high pressure takes hold.
Wednesday a deepening upper level trough and front will approach the region from the West. Showers and storms are likely.
Thursday through Saturday will feature high pressure moving in from the Northwest. This will supply the region with a refreshing air mass. For those waiting on Fall-like weather you'll be smiling.
Hurricane Lee continues to move Northwest in the  Atlantic. The extended forecast models continue to keep this storm offshore of the Eastern seaboard. High surf and rip currents can be expected in our region late week into the weekend.
Stay tuned.
Keep it here for a no nonsense, no hype forecast.
Tuesday:
Mostly sunny. Highs in the lower 80s. North to South winds at 5-10mph.
Tonight:
Becoming mostly cloudy. Lows in the upper 60s in the City, around 60º inland. Light South winds.
Wednesday:
Showers likely. Cooler. Highs in the mid 70s.
Thursday:
Sunny. Highs in the mid 70s.
Friday:
Sunny. Cool. Highs in the lower to mid 70s.
Saturday:
Mostly sunny. Breezy. Highs in the lower to mid 70s.