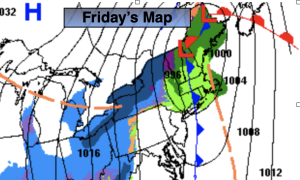 Synopsis:
Scattered morning showers will give way to some sun during the afternoon as the cool front sweeps offshore. It'll be mild with readings in the lower to mid 50s during the morning. Temperatures will fall some during the afternoon.
The weekend looks bright and chilly with highs around seasonable levels- the upper 30s to around 40º. A large high will build from Eastern Canada South to the Gulf of Mexico. The difference in pressure from a developing offshore storm and the high will create gusty winds. The storm over the Western Atlantic may throw some clouds our way from time to time.
MLK Day will feature sunshine and tolerable readings as the high moves overhead.
A few showers are possible Tuesday as a low weakens heading into Western NY state.
Our snowless Winter continues and there is no major change in the extended computer models to think otherwise. Sorry snow lovers, the Pacific jet stream continues to scream.
Stay tuned.
Keep it here for a no hype, no nonsense forecast.
Friday:
Scattered morning showers, otherwise becoming partly sunny. Mild. Highs in the lower to mid 50s. Readings will fall into the 40s during the afternoon. Winds becoming Northwest at 10-15mph.
Tonight:
Partly cloudy. Much colder than recent nights (wow, its January!)  Lows around freezing along the urban corridor, the 20s inland. Northwest winds at 10-20mph.
Saturday:
Partly sunny. More seasonable. Highs in the upper 30s.
Sunday:
Mostly sunny. Highs in around 40º.
Martin Luther King Jr. Day:
Mostly sunny. Highs in lower to mid 40s.
Tuesday:
Mostly cloudy with the chance of showers. Highs mid 40s.