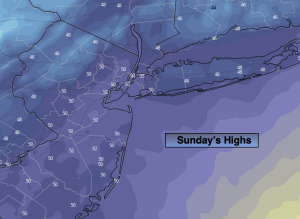 Synopsis:
What a difference a day makes. Yesterday we around 70º, today it'll be about twenty degrees cooler. A significant cold front has moved through. Weak low pressure will develop off the coast. This will result in scattered showers early this morning. It'll becoming mostly sunny later this morning and winds will increase.
Monday will most likely be the chilliest day of the season so far as Canadian high pressure noses in. The chill will continue on Tuesday as the sun will give way to increasing clouds.
Another low will develop and move up the coast Wednesday. Showers are in the forecast for the first half of the day.
Sunshine will dominate on Thursday as the chill remains with a cold flow from the North.
Stay tuned.
Keep it here for a no hype, no nonsense forecast.
Sunday:
Scattered morning showers, otherwise becoming m0stly sunny. Much cooler. Breezy. Highs in the upper 40s to lower 50s. Northwest winds at 15-25mph.
Tonight:
Clear and cold. Lows in the mid 30s in the City. The upper 20s and 30s inland. Northwest winds at 10-15mph with gusts to 20mph.
Monday:
Sunny. Chilly. Highs in the mid to upper 40s.
Tuesday:
Sun to clouds. Highs in the mid to upper 40s.
Wednesday:
Morning rain to sun. Highs in the lower 50s.
Thursday:
Mostly sunny. Highs in the upper 40s.