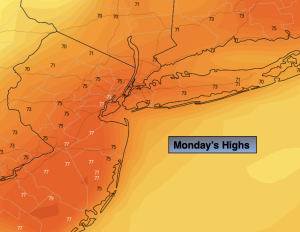 Synopsis:
Indian Summer will be with us one more day. High pressure well off the coast will continue to pump up warm air from the South. Our early June feel goes on. Temperatures will be well above the average highs of the mid and upper 50s (some areas by nearly twenty degrees). This will result in record high temperatures for many locations. The record high for Central Park for Monday is 78º set in 1938. This will be a tough reach, but many other areas will break their previous records. A cool front will move through by midday, but the cooler air is well behind the front. Abundant sunshine is expected.
Much colder readings will work in tonight. Yes, the furnace will click on. Temperatures will be almost twenty five degrees colder than last night!
A Canadian airmass will move in for Tuesday and Wednesday bringing our temperatures more closer to average as November says hello again. It will be a shock as we've been dealing with Spring-like conditions. The sun will continue to dominate.
Thursday will feature above average temperatures as we get on the milder side of the high.
By Friday, a cool front will head our way. In addition to this feature a tropical low will be moving up and off the coast. Showers are possible by later in the day.
Stay tuned.
Keep it here for a no hype, no nonsense forecast.
Monday:
Sunny and warm. Highs in the mid 70s. Southwest to Northwest winds at 8-12mph gusting to 20mph later day.
Tonight:
Clear, breezy and colder. Lows in the mid 40s in the City, the 30s inland. Northwest winds 10-20mph.
Tuesday:
Sunny. Cooler. Highs in the mid 50s.
Wednesday:
Sunny. Cool. Highs in the mid 50s.
Thursday:
Sunny. Milder. Highs in the mid 60s.
Friday:
Sun to clouds. Chance of afternoon showers. Highs in the mid to upper 60s.