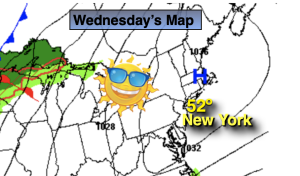 Synopsis:
The nip in the air will continue for today as readings will remain below seasonable averages for a change. Average highs are in the mid to upper 50s. Skies will be bright as high pressure sits over the region.
Thursday will feature above average temperatures as we get on the milder side of the high. High clouds will fan the sky ahead of the next system working in.
On Friday, a cool front will head our way. In addition to this feature, a tropical low (once Nicole) will be moving up the coastal Piedmont. Rain will likely develop Friday afternoon and possibly become heavy at times at night. Winds may become gusty.
Early morning rain Saturday will give way to mainly sunny skies. Temperatures will be above average.
Colder air will push in for Sunday as the flow once again comes from Canada with readings below average by several degrees.
Stay tuned.
Keep it here for a no hype, no nonsense forecast.
Wednesday:
Sunny. Cool. Highs in the lower to mid 50s. Northeast to Southeast winds at 5mph.
Tonight:
Clear. Lows in the mid 40s in the City, the 20s & 30s inland. Southeast to Southwest winds less 5mph.
Thursday:
Mostly sunny. Milder. Highs in the lower 60s.
Friday:
Thickening clouds. Rain likely by afternoon. Mild. Highs in the mid to upper 60s.
Saturday:
Early morning rain. Becoming sunny. Mild. Highs in the mid 60s.
Sunday:
More clouds than sun. Chilly. Highs in only around 50º.