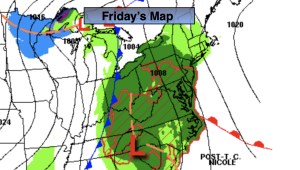 Synopsis:
A cool front will head our way for Veterans Day. In addition to this feature, a tropical low (once Nicole) will be moving up the coastal Piedmont. Rain will likely develop around midday and possibly become heavy at times late. Winds may become gusty toward evening. It will be very mild. Readings will be at least ten degrees higher than the average high of the mid 50s.
Areas of rain and gusty winds will continue tonight. It won't be raining all the time but local downpours are likely. Over an inch of rain is possible, especially to the North and West of the City. Southerly winds will gusts to 45mph along the coast. It will be balmy tonight with readings remaining in the 60s with the tropical airmass in place from the leftovers of Nicole.
Rain will taper off Saturday morning. It'll become partly sunny during the afternoon with temperatures feeling more like Spring.
Colder air will push in for Sunday as the flow comes from Canada with readings below average by several degrees. Monday will most likely be the chilliest day of the season so far. The chill will continue on Tuesday despite abundant sunshine as cold high pressure dominates.
Stay tuned.
Keep it here for a no hype, no nonsense forecast.
Friday:
Cloudy. Rain likely by midday. Warm. Highs in the upper 60s to around 70º. Southeast winds at 8-12mph, becoming gusty late.
Tonight:
Periods of rain. Local downpours. There will be dry times. Windy and warm. Lows in the 60s throughout. South wind at 10-20mph with gusts to 45mph at the coast.
Saturday:
Morning rain, otherwise becoming partly sunny. Warm. Highs in the upper 60s to around 70º.
Sunday:
Partly sunny. Chilly. Highs in the lower 50s.
Monday:
Mostly sunny. Chilly. Highs in the upper 40s.
Tuesday:
Mostly sunny. Chilly. Highs in the upper 40s.