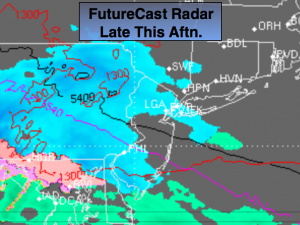 Synopsis:
Colder weather will return this weekend. A strong, cold high will be to our North as a stationary front throws moisture to the North.  Clouds and a period of snow showers or light snow is expected later today and this evening(FutureCast radar above).  Many areas will remain snow-free under mostly cloudy skies for the majority of the day.  Up to a coating of snow is possible where the snow is the steadiest.
Sunday will feature more sunshine as high pressure moves in.
Looking down the pike the weather pattern will look more like Spring with a ridge of high pressure off the Southeast coast. This is not a pattern conducive to snow along the East coast. Mild temperatures are expected the next seven to ten days.
Today:
Mainly cloudy with some dim sun. Colder. Highs in the mid 30s. Chance of snow showers or a period of light snow later in the afternoon and during the evening. Northeast to Southeast wind at 5mph.
Tonight:
Early Snow showers otherwise becoming partly cloudy. Lows in the upper 20s in the City, near 20º inland. Southeast to Northwest wind at 5-10mph.
Sunday:
Mostly sunny. Highs in the lower 40s.
Monday (MLK Day):
Mostly sunny with highs around 40º.
Tuesday:
More clouds than sun with a few showers. Mild. Highs in the mid to upper 40s.
Wednesday:
Cloudy with showers. Mild. Highs in the lower 50s.
Stay Tuned.
Keep it here for a no nonsense, no hype forecast.