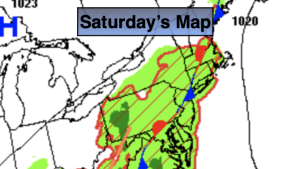 Synopsis:
The heatwave of September 2023 has come to an end. What a stretch it was with July-like conditions. A stationary front (map above) will be over the region today. Along the front and to the East high humidity will remain (basically the entire area). It will be muggy today minus the 90º heat. More clouds than sun is expected. Scattered showers and storms will develop along the frontal boundary this afternoon. It will not be a washout. Readings will be a few degrees above the average high of 80º.
The forecast will remain the same for Sunday. The threat of scattered afternoon storms will be a notch higher, again not a washout. Seasonable readings are expected, but humidity levels will remain high.
The frontal boundary will begin to washout over the region for Monday. A few showers are possible but the majority of the day will be dry. It'll be less humid as well.
The atmosphere will dry out on Tuesday resulting in a mix of sun and clouds. JMW is keeping it dry.
Wednesday a deepening upper level trough and front will approach the region from the West. There is a threat of showers.
Hurricane Lee continues to move West/Northwest in the tropical Atlantic. The extended forecast models continue to keep this storm offshore of the Eastern seaboard.
Stay tuned.
Keep it here for a no nonsense, no hype forecast.
Saturday:
Mostly cloudy. Not as hot. Still humid. Scattered afternoon and evening showers and storms possible. Highs in the lower 80s. East to Southeast winds at 5mph.
Tonight:
An isolated evening shower or storm possible. Lows in the lower 70s in the City, the 60s inland. Light Southeast winds.
Sunday:
Mostly cloudy. Scattered afternoon showers and storms. Highs around 80º.
Monday:
Mostly cloudy. Isolated showers. Highs around 80º.
Tuesday:
Sun and clouds. Highs in the lower 80s.
Wednesday:
Showers likely. Cooler. Highs in the upper 70s.