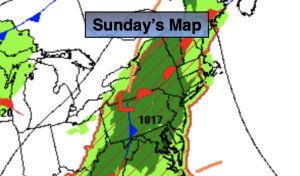 Synopsis:
The forecast for Sunday will be a familiar one with the threat of scattered showers and storms. The stationary front that has been sluggish to move is responsible for the storm potential. It will not be a washout. It will be cooler with seasonable readings, but humidity levels will remain moderate to high.
The frontal boundary will begin to washout over the region for Monday. A few showers are possible but the majority of the day will be dry. It'll be less humid as well.
The atmosphere will dry out on Tuesday resulting in a mix of sun and clouds.
Wednesday a deepening upper level trough and front will approach the region from the West. There is a threat of showers.
Thursday will feel more like a Fall preview with a refreshing air mass moving in from the Northwest.
Hurricane Lee continues to move West/Northwest in the tropical Atlantic. The extended forecast models continue to keep this storm offshore of the Eastern seaboard.
Stay tuned.
Keep it here for a no nonsense, no hype forecast.
Sunday:
Clouds and sun. Scattered showers and storms. Highs around 80º. Northeast winds at 5mph.
Tonight:
An isolated shower or storm, otherwise partly cloudy. Lows in the upper 60s to around 70º in the City, the 60s inland. Light East winds.
Monday:
Clouds and sun. Isolated showers. Highs around 80º.
Tuesday:
Sun and clouds. Highs in the lower 80s.
Wednesday:
Showers likely. Cooler. Highs in the upper 70s.
Thursday:
Sunny, cooler.  Highs in the mid 70s.