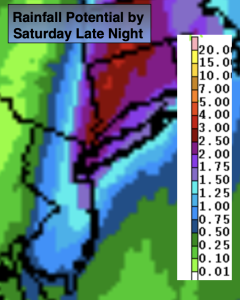 Synopsis:
The weather will go downhill Saturday. The combination of weak offshore low pressure and an approaching cool front will be responsible for periods of rain. The potential for the rain shield to be farther West has increased dramatcially. The rain could be heavy at times, especially from the City and to the East. Well North and West not much in the way of rainfall is expected. Potential rain amounts are above.
Sunday will be the better half of the weekend with abundant sunshine and mild readings as high pressure takes the stage.
Pleasant conditions will continue for the beginning and mid-portion of the week as high pressure dominates the Northeast. Highs will start off near the seasonable (the lower 70s) and then rise to warm readings by Wednesday.
Stay tuned…
Keep it here for a no nonsense, no hype forecast.
Saturday:
Cloudy with periods of rain. Local downpours. Much lighter rain amounts North and West. Highs in the mid 60s. East to Southeast winds at 5-10mph.
Tonight:
Areas of rain early, otherwise becoming partly cloudy late. Lows in the upper 50s in the City, the around 50º inland. South to Northwest winds at 5-10mph.
Sunday:
Sunny and mild. Highs in the mid 70s.
Monday:
Sunny. Highs in the mid  70s.
Tuesday:
Sunny. Highs in the lower  70s.
Wednesday:
Sunny. Warmer. Highs near 80º.