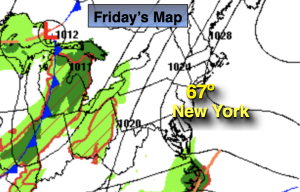 Synopsis:
Temperatures will rebound some today as high pressure slips off the Northeast coast. Readings will still be about five degrees below the average high of the lower 70s. A mix of sun and high clouds is expected.
The threat of showers continues for Saturday. The combination of weak offshore low pressure and an approaching cool front will be responsible for the damp potential. The shower threat is a low one but remains in the forecast. The best chance of seeing showers is from the I-95 corridor and East to the coast.
Sunday will be the better half of the weekend with abundant sunshine and mild readings as high pressure takes the stage.
Pleasant conditions will continue for the beginning of the week with near seasonable temperatures.
Keep it here for a no nonsense, no hype forecast.
Friday:
Mostly sunny. Highs in the upper 60s. South winds at 8-15mph.
Tonight:
Becoming mostly cloudy. Lows in the mid 50s in the City, the upper 40s and 50s inland. Southeast to East winds at 5mph.
Saturday:
Mostly cloudy. Chance of showers. Highest potential at the coast. Highs in the upper 60s.
Sunday:
Sunny and mild. Highs in the mid 70s.
Monday:
Sunny. Highs in the mid  70s.
Tuesday:
Sunny. Highs in the lower  70s.