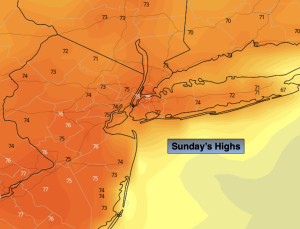 Synopsis:
Today will be the better half of the weekend with abundant sunshine and mild readings as high pressure takes the stage.
Pleasant conditions are expected much of the upcoming week as high pressure dominates the Northeast. Readings will be near the average highs of the lower to mid 70s. Some fine May is on the way!
Stay tuned…
Keep it here for a no nonsense, no hype forecast.
Sunday:
Sunny and mild. Highs in the mid 70s. Northwest winds at 8-12mph.
Tonight:
Clear. Lows around 60º in the City, the upper 40s and lower 50s inland. Northwest to North wind at 5mph.
Monday:
Mostly sunny. Highs in the mid  70s.
Tuesday:
Sunny. Highs around 70º.
Wednesday:
Mostly sunny. Milder. Highs in the upper 70s.
Thursday:
Sunny. Cooler. Highs around 70º.