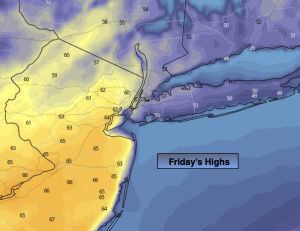 Synopsis:
The luck of the Irish will be with us on St. Patrick's Day. A mix of clouds and some sun is expected with Springtime readings continuing. A spot shower is possible with an approaching front.
A cool front will pass through the region tpnight basically moisture starved. No rain is expected.
The weekend looks bright. Saturday will owe the Midler of the two days. Sunday will be the cooler half of the weekend as a Canadian airmass pays a visit.
The beginning of the week looks tranquil with near seasonable readings as high pressure begins to modify. Monday is the beginning of Spring! The Vernal Equinox occurs at 5:24pm EDT. This is the exact moment when the sun's direct rays are over the equator on it's way Northbound.
By Tuesday, readings will once again go above the average high of around 50º with the strong March sun and lack of cold air in the Northeast.
Stay tuned.
Keep it here for a no nonsense, no hype forecast.
Friday:
Clouds and sun. Mild. A spot shower is possible. Highs in the upper 50s to lower 60s. Southeast to Southwest winds at 8-12mph.
Tonight:
Mostly cloudy. Lows in the mid 40s along the urban corridor, the 30s inland. Southwest to Northwest winds at 8-12mph.
Saturday:
Mostly sunny. Highs in the lower 50s.
Sunday:
Mostly sunny. Cooler. Highs in the lower to mid 40s.
Monday:
Sunny. Highs in the upper 40s.
Tuesday:
Sunny. Milder.  Highs in the mid 50s.