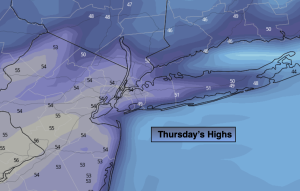 Synopsis:
A more tranquil day is expected today. Bright skies and mild readings are anticipated as high pressure over the Southeast dominates. Yes, it'll feel like Spring. That season arrives on Monday!
The luck of the Irish will be with us on St. Patrick's Day. A mix of sun and clouds is expected with Springtime readings continuing. A spot shower is possible.
Showers are likely Friday night with an approaching cool front.
The weekend looks bright. Saturday will owe the Midler of the two days. Sunday will be the cooler half of the weekend as a Canadian airmass pays a visit.
The beginning of the week looks tranquil with near seasonable readings as high pressure begins to modify.
Stay tuned.
Keep it here for a no nonsense, no hype forecast.
Thursday:
Sunny. Milder. Highs in the mid 50s. Northwest to West winds at 8-12mph with higher gusts during the afternoon.
Tonight:
Partly cloudy. Milder than recent nights. Lows in the mid 40s along the urban corridor, the 30s inland. Light West to Southeast winds.
Friday:
Clouds and sun. Mild. A spot shower is possible. Highs in the upper 50s.
Saturday:
Mostly sunny. Highs in the lower 50s.
Sunday:
Mostly sunny. Highs in the lower to mid 40s.
Monday:
Sunny. Highs in the upper 40s.