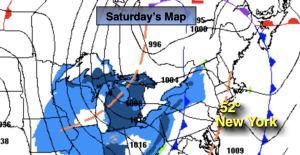 Synopsis:
The last weekend of Winter will be like the majority of the season- tranquil. Both days will feature a mix of sun and clouds. Today will be the milder of the two days. Sunday will be the cooler half as a Canadian airmass pays a visit.
The beginning and mid portion of the upcoming week will make most smile. Near seasonable readings are anticipated for Monday as high pressure begins to modify. Monday is the beginning of Spring! The Vernal Equinox occurs at 5:24pm EDT. This is the exact moment when the sun's direct rays are over the equator on it's way Northbound.
By Tuesday and Wednesday, readings will once again go above the average high of around 50º with the strong March sun and lack of cold air in the East.
Stay tuned.
Keep it here for a no nonsense, no hype forecast.
Saturday:
Partly sunny. Highs in the lower 50s. West to Northwest winds at 8-15mph.
Tonight:
Mostly clear. Colder then recent nights. Lows around freezing along the urban corridor, the 20s inland. West to Northwest winds at 8-15mph.
Sunday:
Mostly sunny. Cooler. Highs in the lower to mid 40s.
Monday:
Sunny. Highs around 50º.
Tuesday:
Sunny. Milder.  Highs in the mid to upper 50s.
Wednesday:
Sunny. Mild.  Highs in the upper 50s to around 60º.