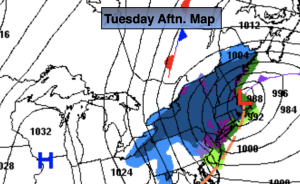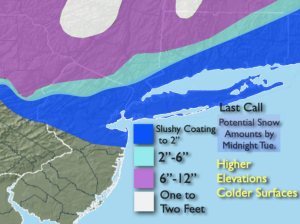 Synopsis:
An intensifying offshore storm will continue to affect the region through today. The lack of Arctic high pressure will be one of the several reasons this will not be a significant snow for the Southern 2/3rd's of the region.
The upper levels (jet stream level) will have a deepening cutoff low that will move from Southern NJ this morning to East of Long Island by this evening. . This will do two things: Strengthen the first surface low and also bring down colder air from the upper levels of the atmosphere. The second low over Eastern low over Eastern Long Island will consolidate with the main storm. The ocean storm will move onshore over Eastern Massachusetts and do a loop then move back over the Atlantic.
There will be intermittent snow throughout today from all of these systems. Our region is on the Southwest side of the snow bands- the backside of the storm if you will. Since the storm will be consolidating and slowing down the on and off snow will last into this evening. Some of it will come down light at other times it may come down at a fairly good clip.  These total snow amounts will be elevation driven. If you live in a county with drastic changes in elevation within a couple of miles that will result in the difference of a couple of inches of snow. Pavement and concrete surfaces will have a significantly lower slushier amount or none at all.
The winds will also pick up out of the Northwest and gust to over 40mph at times.
Any evening snow will taper off and end. Skies will become partly cloudy overnight and the winds will be strong.
Wednesday the sun will dominate and winds will continue to be busy as the storm moves farther out to sea.
Thursday will be more tranquil, bright and mild as high pressure works in.
The luck of the Irish will be around on St. Patrick's. A mix of sun and clouds are expected with Springtime readings.
A few morning showers are expected on Saturday, otherwise the sun will return with above average readings.
Stay tuned. Keep it here for a no nonsense, no hype forecast.
Tuesday:
On and off snow (rain out East, changing to snow) deepening on location. Windy. Highs in the 30s. West to Northwest winds at 15-30mph with gusts to 40mph.
Tonight:
Evening areas of snow ending. Mostly cloudy. Windy. Lows around freezing along the urban corridor, the upper 20s well inland. Northwest winds at 15-30mph with gusts to 40mph.
Wednesday:
Partly sunny. Windy. Highs in the mid 40s.
Thursday:
Sunny. Milder. Highs in the mid 50s.
Friday:
Partly sunny. Mild. Highs in the upper 50s.
Saturday:
Morning showers, afternoon sun. Highs in the mid 50s.