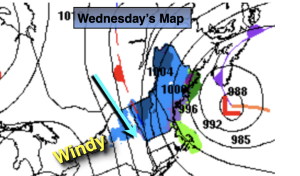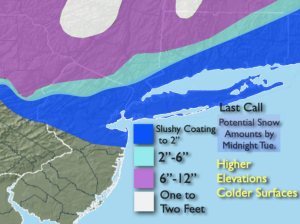 Synopsis:
The storm that gave the region a wide range in snow amounts from nothing over parts of Central & Southern NJ to 15″to 18″ over the highest elevations of the Lower Hudson Valley is finally losing its grip on the area. Any leftover snow will end early tonight. Skies will become partly cloudy late. Winds will will strong around the intense storm East of Maine. Gusts over 45mph are possible out of the Northwest.
Wednesday the sun will dominate and winds will continue to be busy as the storm moves farther out to sea.
Thursday will be more tranquil, bright and mild as high pressure works in.
The luck of the Irish will be around on St. Patrick's Day. A mix of sun and clouds is expected with Springtime readings. A spot shower is possible.
Showers are likely Friday night with an approaching cool front.
Morning clouds on Saturday, otherwise the sun will return with above average readings.
Sunday will be the cooler half of the weekend as a Canadian airmass pays a visit.
Stay tuned.
Keep it here for a no nonsense, no hype forecast.
Tonight:
Evening areas of snow ending. Mostly cloudy. Windy. Lows around freezing along the urban corridor, the upper 20s well inland. Northwest winds at 15-30mph with gusts to 45mph.
Wednesday:
Partly sunny. Windy. Highs in the mid 40s. Northwest winds at 15-30mph with gusts to 40mph.
Thursday:
Sunny. Milder. Highs in the mid 50s.
Friday:
Clouds and sun. Mild. A spot shower is possible. Highs in the mid to upper 50s.
Saturday:
Morning clouds, afternoon sun. Highs in the lower 50s.
Sunday:
Mostly sunny. Highs in the lower to mid 40s.