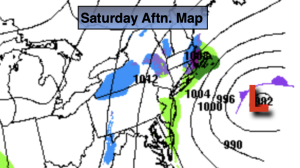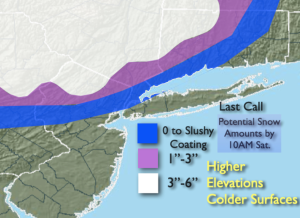 Synopsis:
Low pressure will continue to deepen off the NJ coast today. Areas of rain and snow will continue this morning and taper off toward midday. The accumulations that occurred were on the lighter side of the potential amounts above. The atmosphere as expected was just too warm elsewhere. Also as stated this was an elevation driven accumulation.
Tonight skies will become partly cloudy.
Sunday definitely will be the better half of the weekend with brighter skies and seasonable readings as high pressure influences the region. It will be a brief break, unfortunately.
The next potential storm is on the map for Monday and Tuesday as low pressure develops off the coast. The track and all the typical questions still need to be answered. This system will be a stronger low that is affecting the region now, but where will those affects be felt? Rain will develop for most areas during the morning Monday. The rain could possibly change to snow Monday night as the storm bombs out off the coast. Again, this is a potential. Much can change in the next few days. I just want you to be aware of the possible scenario. If the storm is too far off the coast lighter precipitation will fall.
Tuesday will feature the intense storm somewhere in the Cape Cod vicinity with some potential morning precipitation giving way to late day sun and gusty winds.
Winds will be busy under a mainly sunny sky on Wednesday behind the departing storm.
Stay tuned. Keep it here for a no nonsense, no hype forecast.
Saturday:
AM Snow or rain depending on location. Remaining mainly cloudy during the afternoon. Breezy. Highs in the upper 30s and lower 40s. North/Northeast winds at 10-20mph with gusts to 30mph.
Tonight:
Partly cloudy. Lows around in the mid 30s along the urban corridor, the upper 20s inland. North winds diminishing to 5-10mph.
Sunday:
Mostly sunny and breezy. Highs in the mid 40s.
Monday:
Potential for rain, a mix well inland. Highs in the mid 40s.
Tuesday :
Potential morning mix or snow. Some PM sun. Windy. Highs around 40º.
Wednesday :
Partly sunny. Windy. Highs around 40º.