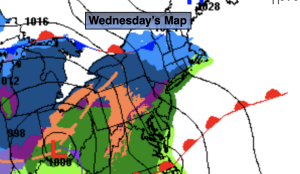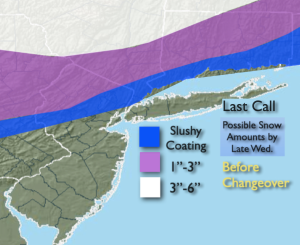 Synopsis
Low pressure will develop over the Southern Ohio Valley on Wednesday and move into the Northeast. Scattered snow showers are possible this morning. Many areas will remain just cloudy. Well to the North in the Mid to Hudson Valley a bit of snow is possible from mid-morning on. Steadier precipitation will move in from midday to early afternoon. It looks cold enough for most areas to get a hit of wet snow at the onset (the exception being Central & Southern areas). Along the I-78 corridor to Northern parts of NYC into coastal Connecticut a quick slushy coating is possible. Some of this region may remain just wet. Here the snow or sleet will rapidly go over to rain. Farther North and West, snow and sleet will fall for a longer duration, hence the higher amounts. Last call map is above. A period of heavy rain is likely this evening into the first part of the night in all areas with many regions totaling well over an inch of rain. We are plenty saturated and could use a break from the wet weather.
Skies will brighten on Thursday as the storm departs out to sea. Readings will be several degrees above the average high of the upper 30s.
By Friday, readings will cool down to near average temperatures as a Canadian airmass works in under mostly  sunny skies.
The weekend looks decent for late January. Conditions will remain tranquil along the East coast with once again mild temperatures as weak high pressure dominates.
Stay tuned.
Keep it here for a no hype, no nonsense forecast
Wednesday:
Cloudy. Scattered snow showers in some areas this morning. Wet snow developing by midday to early afternoon, rain over central and Southern sections. Snow mixing with rain and changing to rain from South to North by during the afternoon. Highs rising from the 30s into the 40s during the evening. East to Southeast winds at 10-15mph.
Tonight:
Heavy rain through the first part of the night. Lows in the lower 40s along the urban corridor, the the upper 30s inland. Southeast to West winds at 10-25mph with higher gusts, diminishing late.
Thursday:
Partly sunny. Highs in the mid 40s.
Friday:
Mostly sunny. More seasoanble. Highs in the upper 30s.
Saturday:
Partly sunny. Highs in the mid 40s.
Sunday:
Partly sunny. Mild. Highs in the upper 40s.