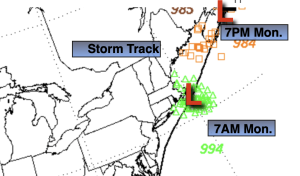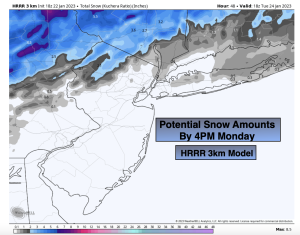 Synopsis
Rain and wet snow, all dependent on your location and elevation will continue through early afternoon. Once again, looking like a mainly rain event for the coast. Marginal cold air will funnel in on the backside of the developing low that will be just offshore.  Central and Southern NJ will be all rain no matter what the outcome. Dicey forecast with how much precip will be leftover and how cold the atmosphere will be once the storm deepens Southeast New England. Thinking is the lastest HRRR Model has a decent handle on what may transpire. More of a minor accumulation on colder surfaces and elevated driven.  All of the precipitation will taper off during the afternoon. Highs in all areas will be well above freezing.
Skies will clear tonight with most areas going below freezing.
Tuesday will tranquil. A mix of sun and clouds is expected with tolerable temperatures as high pressure moves to the coast.
Low pressure will develop over the Southern states on Wednesday and move Northeast. Precipitation will move in  during the mid to late morning. It now looks like it will be cold enough for most areas to get a hit of wet snow at the onset (the exception being Southern areas). The potential is there for an accumulation before the changeover to rain later in the day.
Skies will brighten on Thursday as the storm departs out to sea.
By Friday, readings will actually get to seasonable averages-the upper 30s, somewhere we haven't been in many weeks.
Stay tuned.
Keep it here for a no hype, no nonsense forecast
Monday:
Periods of rain or wet snow, otherwise precipitation will taper off during the afternoon.  Highs in the lower 40s, the 30s well inland. Increasing Northwest winds at 10-20mph.
Tonight:
Becoming mostly clear. Lows around freezing along the urban corridor, the 20s inland. Northwest winds diminishing to 10-15mph.
Tuesday:
Partly sunny. Highs in the mid 40s.
Wednesday:
Wet snow developing by mid to late morning, rain over Southern sections. Snow eventually mixing with rain and changing to rain from South to North by late day.  Highs rising from the 30s into the 40s.
Thursday:
Partly sunny. Highs in the mid 40s.
Friday:
Partly sunny. More seasoanble. Highs in the upper 30s.