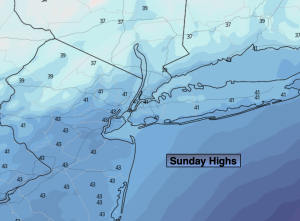 Synopsis
It'll be a grey Sunday (especially for many Giants fans.) Rain is likely by late afternoon or early evening as low moves up from the South and West. A mix of rain and snow is possible North & West. Rain is likely tonight as the low travel travels along the coast. Well inland there's a potential for a mix.
On Monday many the models want to hang back the low pressure for the first half of the day. This would result in rain and with wet snow inland. If this transpires a slushy coating of snow is possible over the interior on the colder surfaces. Much of the precipitation will taper off during the afternoon.
Tuesday will be the best day of the next five. A mix of sun and clouds is expected as high pressure moves to the coast.
Low pressure will develop over the Southern states on Wednesday and move Northeast. Any sun will give way to thickening clouds with rain developing by late afternoon (sound familiar?) North and West a mix is likely but here to, as the storm follows its predecessors track almost to the tee, rain will most likely win the battle.
Skies will brighten on Thursday as the storm departs out to sea.
Above average temperatures are expected the next five days.
Stay tuned.
Keep it here for a no hype, no nonsense forecast
Sunday:
Cloudy. Rain developing during the mid to late afternoon. Rain and snow possible inland. Highs in the mid 40s, the 30s inland. Southeast winds at 5-10mph.
Tonight:
Rain. A mix likely well inland. Lows in the upper 30s along the urban corridor, near freezing inland. Northeast winds increasing to 10-20mph late.
Monday:
Potential of rain or wet snow, otherwise remaining mostly cloudy.  Highs in the mid 40s, the upper 30s well inland.
Tuesday:
Partly sunny. Highs in the mid 40s.
Wednesday:
Any morning sun giving way to increasing clouds. Rain developing later in the afternoon along the coast. A potential mix inland. Highs in the mid 40s.
Thursday:
Partly sunny. Highs in the mid 40s.