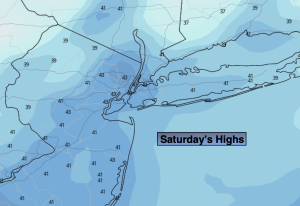 Synopsis:
High pressure will move in Saturday with skies becoming mostly sunny. The winds won't be an issue.
Any sunshine Sunday morning will give way to increase clouds. Rain is likely by late afternoon as another low moves up from the South and West. A mix of rain and snow is possible North & West. Rain is likely Sunday night as the low travel travels along the coast. This track is not conducive to snow .
Any leftover clouds and early morning rain or snow showers on Monday should give way to a brighter afternoon sky.
Tuesday will be the best day of the next five with wall to wall sunshine and our continuation of above average readings.
Low pressure will develop over the Southern states on Wednesday and move Northeast. Any sun will give way to thickening clouds with rain developing by late afternoon (sound familiar?) North and West a mix is likely but here to, as the storm follows it's predecesors track almost to the tee, rain will win the battle.
Above average temperatures are expected the next five days.
Stay tuned.
Keep it here for a no hype, no nonsense forecast.
Saturday:
Becoming mostly sunny. Highs in the lower 40s. Northwest winds at 5-10mph.
Tonight:
Clear. Lows near freezing along the urban corridor, the upper teens and 20s inland. Light and variable winds.
Sunday:
Morning sun giving way to increasing clouds. Rain developing during the mid to late afternoon. Rain and snow possible inland. Highs in the mid 40s.
Monday:
Morning clouds to sun. Spotty rain or snow shower.  Highs in the mid 40s.
Tuesday:
Sunny. Highs in the mid 40s.
Wednesday:
Any morning sun giving way to increasing clouds. Rain developing later in the afternoon along the coast. A potential mix inland. Highs in the mid 40s.