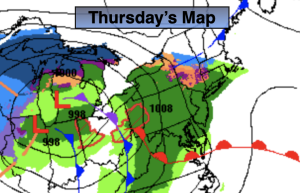 Synopsis:
Today will feature low pressure moving out of the Ohio valley into the Northeast. Rain will develop from West to East during the morning.  This still, is not a track conducive to snow. Readings will be a few degrees above the average high of the upper 30s.
The rain will taper off this evening and early tonight with all area temperatures remaining above freezing.
Clouds look to dominate on Friday as upper level energy works in behind the departing surface low. An isolated shower or flurry is possible during morning.
High pressure will move in Saturday with any clouds giving way to sunny skies.
Any sunshine Sunday morning will give way to increase clouds. Rain is likely during the afternoon as another low moves up from the South and West. A mix of rain and snow is possible North & West.
Any leftover clouds on Monday should give way to a brighter afternoon sky.
Stay tuned.
Keep it here for a no hype, no nonsense forecast.
Thursday:
Rain developing during the morning and continuing throughout the day. Highs in the 40s. North to East winds at 5-10mph.
Tonight:
Rain tapering off early. Lows around 40º along the urban corridor, the lower to mid 30s inland. Northeast to West winds at 5-10mph.
Friday:
Mostly cloudy. Highs in the mid to upper 40s.
Saturday:
Clouds to sun. Highs in the lower 40s.
Sunday:
Morning sun giving way to increasing clouds. Rain developing during the afternoon. Rain and snow possible inland. Highs in the mid 40s.
Monday:
Morning clouds to sun. Highs in the mid 40s.