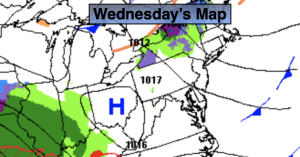 Synopsis:
Our continuation of mild temperatures will stick around today under a mix of sun and clouds as high pressure dominates.
Clouds will roll in tonight as the next system approaches from the Southwest.
Thursday will feature low pressure moving out of the Ohio valley into the Northeast. Rain will develop by mid-morning. The storm track, like all others this Winter will be to our West-a warm solution.
High pressure will move in for Friday and Saturday with bright and you guessed it, mild readings.
Any sunshine Sunday morning will give way to increase clouds. Rain is likely during the afternoon.
Stay tuned.
Keep it here for a no hype, no nonsense forecast.
Wednesday:
Sun and clouds. Mild. Highs in the lower 50s. West to Northwest winds at 10-20mph.
Tonight:
Becoming mostly cloudy. Lows around 40º along the urban corridor, near freezing inland. West winds at 5mph.
Thursday:
Rain developing during the morning. Highs in the 40s.
Friday:
Sun and clouds. Highs in the mid to upper 40s.
Saturday:
Mostly sunny. Highs in the mid 40s.
Sunday:
Morning sun giving way to increasing clouds. Rain developing during the afternoon. Highs in the mid 40s.