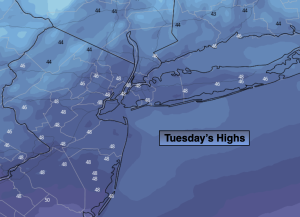 Synopsis:
Temperatures will rebound through Thanksgiving as high pressure over the Southeast dominates. It'll be a better feel today with bright skies and lighter winds. Wednesday readings will finally get close to average, the lower 50s. Skies will be mainly sunny. Thanksgiving will be bright and seasonable as the high retreats into the Atlantic.
All of the computer models have now taken the storm off the map for Friday into Saturday morning. The reason- the polar jet and the subtropical jet will remain separate entities for this time frame. This will result in a more progressive and non energized system on Friday with on and off showers expected. Saturday looks to be bright and mild as we get a brief break between systems. The subtropical jet will have a developing area of low pressure coming out of the lower Mississippi valley on Sunday. Rain is likely and it'll be mild. No cold air will be available for wintry precipitation.
Stay tuned.
Keep it here for a no hype, no nonsense forecast.
Tuesday:
Sunny. Not as chilly. Highs in the upper 40s. West winds at 5-10mph.
Tonight:
Mostly clear. Lows in the upper 30s along the urban corridor, the 20s inland.  West winds at 5mph.
Wednesday:
Sunny. Seasonable. Highs in the lower 50s.
Thanksgiving:
Mostly sunny. Seasonable. Highs in the lower 50s.
Friday:
On and off showers. Mild. Highs in the lower to mid 50s.
Saturday:
Mostly sunny. Mild. Highs in the mid 50s.