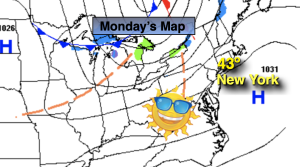 Synopsis:
Temperatures will begin a slow recovery starting today as high pressure builds over the Southeast. A better feel is expected by Tuesday and Wednesday as readings finally get close to average, the lower 50s. Skies will be mainly sunny. The weather will cooperate in the Northeast for travel for the holiday.
Thanksgiving will be bright and seasonable as the high retreats into the Atlantic.
Models on Sunday were starting to gel on a decent storm somewhere along Mid-Atlantic, Northeast coast Friday into Saturday AM. Now, the most recent run of the GFS now has no storm whatsoever. This model has been flip flopping and we'll continue to use the European model for consistency.  Sorry snow lovers, without a cold high to the North it ain't happening. Right now it looks WAAAY too warm. How nasty will it get? The potential is there for heavy rain and gusty winds.
Stay tuned.
Keep it here for a no hype, no nonsense forecast.
Monday:
Mostly sunny. Highs in the lower 40s. Southwest winds at 10-15mph with higher gusts.
Tonight:
Mostly clear. Cold. Lows in the lower to mid 30s along the urban corridor, the teens and 20s inland.  West winds at 5-10mph.
Tuesday:
Sunny. Not as chilly. Highs in the upper 40s.
Wednesday:
Sunny. Seasonable. Highs in the lower 50s.
Thanksgiving:
Mostly sunny. Seasonable. Highs in the lower 50s.
Friday:
Rain developing. Highs in the lower 50s.