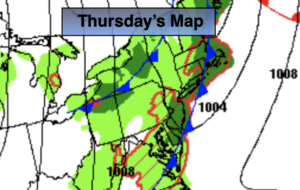 Synopsis:
Today is Fall's debut (the Autumnal Equinox is at 9:03PM EDT) and a cold front will be right on cue. It will move through the region this morning and early afternoon with scattered showers and storms. Readings will be near seasonable (the lower to mid 70s). Winds will increase out of the Northwest during the afternoon. .
Tonight will be the coolest night we've experienced in months. There will be no need for AC but maybe that blanket will come in handy.
By Friday the front will have moved offshore and allow for chilly high pressure to work in from Canada. It will every bit like Autumn with readings remaining in the 60s.
The first weekend of Fall will be delightful with plenty of sun and cool readings.
Keep it here for a no hype, no nonsense forecast.
Thursday:
Scattered showers and storms through early afternoon, otherwise a mix of clouds and sun later in the day. Becoming breezy during the afternoon. Highs in the mid 70s. Southwest to Northwest at 10-20mph.
Tonight:
Clear and much cooler. Lows around 50º in the City, the 40s inland. Northwest winds at 15-25mph.
Friday:
Partly sunny, breezy and much cooler. Highs in the mid 60s.
Saturday:
Sunny. Highs in the around 70º.
Sunday:
Partly sunny. Highs in the mid 70s.
Monday:
Early showers, otherwise partly sunny. Highs in the mid 70s.
Catch me Saturday on the Fox Business Network from 6am-9am and on the Fox Weather Stream until 10am. Find us on Tubi, Roku TV and YouTube TV and as always the Fox Weather App. It's Free!