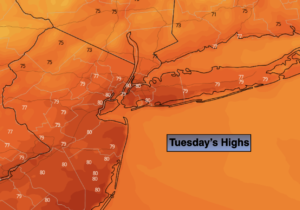 Synopsis:
It will feel every bit like Summer this last few days of the season. Today and Wednesday will be warm as high pressure remains over the region. Abundant sunshine is expected.
Thursday is Fall's debut and right on que a significant cool front will move through the region with scattered showers. Readings will be near the seasonable average of 75º. By Friday the front will have moved offshore and allow for chilly high pressure to work in from Canada. It will every bit like Autumn with readings remaining in the 60s.
The first weekend of Fall is looking pleasant.
Keep it here for a no hype, no nonsense forecast.
Tuesday:
Sunny. Highs in the lower 80s. Northwest winds at 5-10mph.
Tonight:
Clear. Lows in the mid 60s in the City, the 50s inland. West to Northwest winds at 5-10mph.
Wednesday:
Sunny. Warm. Highs in the lower to mid 80s.
Thursday:
Scattered morning showers, otherwise partly sunny. More seasonable. Highs in the mid 70s.
Friday:
Partly sunny, breezy and much cooler. Highs in the mid 60s.
Saturday:
Sunny. Highs in the around 70º.
Catch me Saturday on the Fox Business Network from 6am-9am and on the Fox Weather Stream until 10am. Find us on Tubi, Roku TV and YouTube TV and as always the Fox Weather App. It's Free!