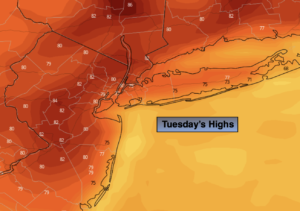 Synopsis:
High pressure will build along the Northeast coast through Thursday. Bright, more comfortable conditions will be with us.  Readings will be at or a few degrees above the average high of 79º.
A few showers or storms are possible Thursday night as a warm front moves through.
By Friday the winds will turn to the West ahead of a cool front. This will result in a spike in temperatures.
Father's Day Weekend at this time looks sunny with comfortable readings as a North wind dominates.
Stay tuned.
Keep it here for a no hype, no nonsense forecast.
Tuesday:
Sun and clouds. Much less humid. Highs in the lower 80s. North winds at 5mph.
Tonight:
Partly cloudy. Lows in the mid 60s in the City, the 50s to lower 60s inland. North winds at 5mph.
Wednesday:
Sunny. Highs around 80º.
Thursday:
Partly sunny. Highs around 80º.
Friday:
Partly sunny. Very warm. Highs in the upper 80s to around 90º.
Saturday:
Mostly sunny. Seasonable. Highs in the upper 70s.
Catch me on the Fox Weather Stream from 10am-1pm Tuesday. Find us on Tubi, Roku TV and YouTube TV and as always the Fox Weather App. It's Free!