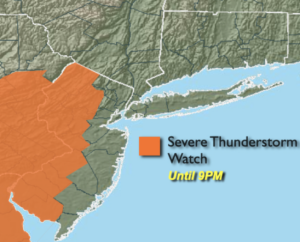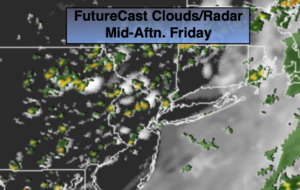 Synopsis:
A Severe Thunderstorm Watch is in effect until 9pm for Western NJ. A storm in the Watch area may turn severe. Severe thunderstorms contain winds in excess of 58mph and or one inch hail. Frequent cloud to ground lightning and torrential rain is possible in any storm.
Unsettled is the weather word through Friday. Moisture will work into the region around an area of offshore high pressure and interact with a trough of low pressure over the region.
There will be a couple more chances of rain and storms. One round of scattered storms and showers will occur this evening and tonight. Some of the rain maybe heavy South and West of the City.
Friday will start off cloudy. Breaks of sun are likely during the day. This once again will make the atmosphere unstable. Isolated storms are likely during the afternoon. May areas will remain dry. Readings will be near the seasonal averages of the mid 70s.
The first weekend of June looks to be sunny and hot as the high re-establishes itself off the Southeast coast and becomes a heat pump.
A heatwave looks to be on the way for early next week.
Stay tuned.
Keep it here for a no nonsense, no hype forecast.
Tonight:
Scattered showers and storms. Some of the storms maybe severe early South and West of the City. Locally heavy rain is possible in these areas as well. Lows in the mid 60s in the City, near 60º inland. Southwest winds at 5-10mph.
Friday:
Morning clouds giving way to some sun. Isolated afternoon storms possible. Highs in the mid 70s. Southwest winds at 5-10mph.
Saturday:
Mostly sunny and hot. Highs near 90º.
Sunday:
Mostly sunny. Hot. Highs around 90º.
Monday:
Hazy, hot and humid. Highs in the lower 90s.
Tuesday:
3 H's. Highs in the lower 90s.