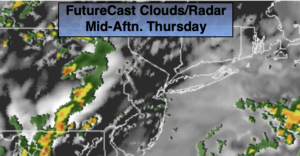 Synopsis:
Unsettled is the weather word for the next two days. Moisture will work into the region around an area of offshore high pressure. There will be a few chances of rain and storms. The first round will be this morning. A break in the action is likely for several hours today with possibly peeks of sun. This will destabilize the atmosphere and result in spotty strong late day and evening storms.
A few leftover showers are possible tonight.
Friday will be mainly cloudy with spotty showers. Much of the time will be dry.
The first weekend of June looks to be a winner with sunshine and warm temperatures as the high re-establishes itself off the Southeast coast and becomes a heat pump. Readings by Sunday will be July-like.
A heatwave looks to be on the way for early next week.
Stay tuned.
Keep it here for a no nonsense, no hype forecast.
Today:
Morning showers, otherwise mostly cloudy. Spotty late day and evening storms. Highs in the mid 70s. South winds at 8-12mph.
Tonight:
Scattered showers. Lows in the mid 60s in the City, near 60º inland. Southwest winds at 5-10mph.
Friday:
Spotty showers. Highs in the mid 70s.
Saturday:
Mostly sunny and warm. Highs in the mid 80s.
Sunday:
Mostly sunny. Hot. Highs around 90º.
Monday:
Mostly sunny. Hot. Highs around 90º.