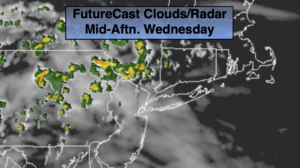 Synopsis:
High pressure moving off the Mid-Atlantic coast will be responsible for the mild readings the next couple of days. More clouds than sun is expected through the end of the week. Readings will be near seasonal levels (the mid 70s).
Spotty storms are possible well North and West during the afternoon and evening today with a weak trough moving through. The majority of the region will be dry. A greater threat of showers exists for all areas on Thursday into Friday morning as moisture works into the region around the area of offshore high pressure and another trough of low pressure moves through.
The first weekend of June looks to be a winner with sunshine and warm temperatures as the high re-establishes itself off the Southeast coast and becomes a heat pump.
Stay tuned.
Keep it here for a no nonsense, no hype forecast.
Today:
Clouds and sun. Spotty storms well North and West during the late afternoon. Highs in the mid 70s. South winds at 5-10mph.
Tonight:
Mostly cloudy with scattered showers late. Lows in the lower 60s in the City, the 50s inland. Southeast winds under 5mph.
Thursday:
Mostly cloudy with scattered showers and storms. Highs in the lower to mid 70s.
Friday:
Morning showers, afternoon sun. Highs near 80º.
Saturday:
Mostly sunny and warm. Highs in the mid 80s.
Sunday:
Mostly sunny. Hot. Highs in the upper 80s to around 90º.