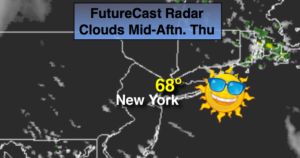 Synopsis:
High pressure will setup shop along the Southeast coast the next several days. This will result in a nice stretch with a hiccup (Friday Afternoon) as a weak system move rapidly through the region from the West.
It will be a beauty today with readings near the seasonal high of 70º under mostly sunny skies.
Friday is looking ok. Sun will give way to clouds, spotty showers can't be ruled out during the afternoon as a rapidly moving systems swings by. It'll be warmer with readings in the 70s.
The weekend is shaping up to be dry (finally) with a mix of sun and clouds. Temperatures will rise in steps. It should be quite warm by Sunday.
Keep it here for a no nonsense, no hype forecast.
Stay tuned.
Today:
Mostly sunny. Highs in the upper 60s to lower 70s. Northwest winds at 5-10mph.
Tonight:
Partly cloudy. Lows in the upper 50s in the City, near 50º inland. South/Southwest winds at 5mph.
Friday:
Partly sunny. Warmer. Spotty afternoon showers possible. Highs in the mid 70s.
Saturday:
Partly sunny. Highs in the mid 70s.
Sunday:
Partly sunny. Warmer. Highs near 80º.
Monday:
Partly sunny. A late day shower is possible. Highs near 80º.