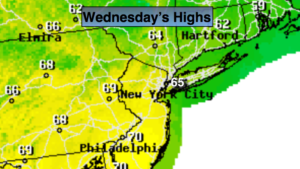 Synopsis:
We'll finally dry out and get to see some sun today as high pressure moves from the Southern Appalachians to Eastern North Carolina. Readings will be a few degrees below the average high of 70º.
A weak front will approach tonight with scattered showers.
Morning showers are possible Thursday otherwise skies will become partly sunny. Friday is looking decent, although a spot shower can't be ruled out during the afternoon.
The weekend is shaping up to be dry with a mix of sun and clouds as high pressure begins to build along the East coast. Temperatures should reach the 70s!
Keep it here for a no nonsense, no hype forecast.
Stay tuned.
Today:
Partly sunny. Highs in the mid 60s. Northwest winds at 5-10mph.
Tonight:
Scattered showers. Not as cold as recent nights. Lows in the mid 50s in the City, the upper 40s inland. West winds at 5mph.
Thursday:
Scattered morning showers, otherwise becoming partly sunny. Highs in the upper 60s to lower 70s.
Friday:
Partly sunny. A spot afternoon shower is possible. Highs around 70º.
Saturday:
Partly sunny. Warmer. Highs in the mid 70s.
Sunday:
Partly sunny. Highs in the mid 70s.