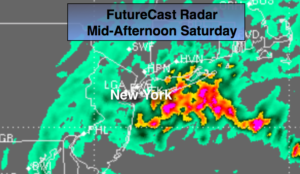 Synopsis:
A low off the Southern NJ coast early today will move to near Cape Cod by this evening with on and off rain. Most areas will receive close to an inch of rain  something we don't need. Please use caution traveling. Urban street and highway flooding is possible. A second round of heavier rain looks to develop just to the East of the City this afternoon (map above).
Any rain this evening will taper off and skies will clear.
Partly sunny skies are expected for Sunday along with breezy to windy conditions. Readings will still be a few degrees above the average high of the upper 30s.
A weak low pressure system will approach Monday night. Light rain or snow showers are possible. This shouldn't be a big deal.
The strong Pacific jet stream continues to dominate. This pattern of no intrusion of Arctic air looks to continue for several more days. It may cool down some midweek next week but it won't be frigid.  Sorry snow lovers, the wait continues for a substantial snowfall.
You know where to find a no hype, no nonsense forecast.
Stay tuned.
Today:
On and off rain. Highs in the mid to upper 40s. Northeast to North wind at 10-20mph.
Tonight:
Becoming mostly clear. Lows in the 30s throughout. Northwest winds diminishing to 5-10mph.
Sunday:
Partly sunny and breezy. Highs in the mid 40s.
Monday:
Partly sunny, seasonal. Highs in the upper 30s.
Tuesday:
Morning clouds. Afternoon sun. Mild. Highs around 50º.
Wednesday:
Partly sunny. Highs around 40º.