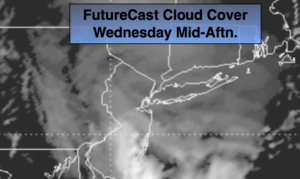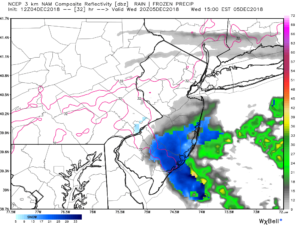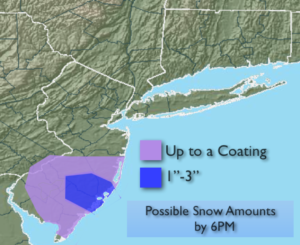 Synopsis:
A Northwest flow will continue as a large high moves from the central portion of the nation to the East coast. This will result in colds readings though the weekend.
Early morning sun will give way to mainly cloudy skies today. An ocean low well East of North Carolina will have an inverted trough swinging back to the coast. There maybe enough energy and moisture with this feature for the potential of a period of light snow and or rain for Monmouth and Ocean counties . The timing looks to be midday into late afternoon. There is a slight chance of a slight of a light accumulation over Southern Ocean County if the snow comes down heavy enough (3rd map above). All other regions will remain dry.
The sun will once again dominate through the end of the week and into the weekend. Another cold front will move through on Friday. This will reinforce the cold air through the weekend.
By Sunday, all eyes will be on a Southern storm. Does it slide to our South and miss the region or does it come up the coast? Confidence continues to increase that this system, or possible two Southern systems, will miss the area. JMW is monitoring the situation for any changes in the storm track..
You know where to find a no hype, no nonsense forecast.
Stay tuned.
Today:
Sun to clouds. Potential for a bit of wet snow or mix over Monmouth and Ocean counties by mid-afternoon. Highs in the upper 30s. Northeast winds at 5-10mph.
Tonight:
Clearing skies. Cold. Lows in the upper 20s in the City, the teens and 20s inland. Northwest winds at 5-10mph.
Thursday:
Partly sunny and cold. Highs in the upper 30s.
Friday:
Mostly sunny and cold. Highs in the upper 30s.
Saturday:
Mostly sunny and cold. Highs in the mid 30s.
Sunday:
Sunny and cold. Highs in the mid 30s.
Keep it here for a no nonsense, no hype forecast.