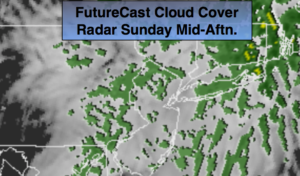 Synopsis:
A low will work through the Great Lakes and into Canada today. There will be areas of rain, drizzle and fog. The steadiest rain will be this morning. This is a warm storm track for the East coast. Highs today will reach well into the 50s with a Southerly flow.
All of next week looks storm free with it getting colder in steps. Monday will be the warmest day with highs in the 50s. Temperatures will then fall into the 30s by midweek as a Northwest flow prevails as a large high moves from the central portion of the nation to the East coast. A mix of sun and clouds is expected through Friday.
By next weekend, all eyes will be on a Southern storm. Does it slide to our South and miss the region or does it come up the coast. Way to early to answer that question. Just be aware that JMW is monitoring the situation.
You know where to find a no hype, no nonsense forecast.
Stay tuned.
Today:
Morning rain tapering off to scattered showers and areas of drizzle. Much warmer. Highs in the mid to upper 5os. East to South winds at 5-10mph.
Tonight:
Areas of drizzle and fog. Very mild. Lows will be higher than the average high for the date. Lows around 50º in the City.  The average high is 48º.  The 40s inland. Southwest to West winds at 5-10mph.
Monday:
Partly sunny and mild. Highs in the lower to mid 50s.
Tuesday:
Partly sunny, colder. Highs in the lower 40s.
Wednesday:
Partly sunny and cold. Highs in the upper 30s.
Thursday:
Partly sunny and cold. Highs in the upper 30s.
Keep it here for a no nonsense, no hype forecast.