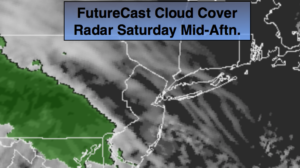 Synopsis:
The first weekend of December will not be a washout. A mix of sun and clouds is today. High pressure we hold  firmly along the coast. This will result in a dry Saturday. The shower threat has now been pushed back to sunset. Good news as many holiday decoration need to go up outdoors.
A low will work through the Great Lakes and into Canada. A period of rain is likely tonight into Sunday morning. This is a warm storm track for the East coast. Highs on Sunday may touch 60º in spots. Morning rain will give way to scattered showers. The afternoon will mainly be cloudy. A few peeks of sun are possible late.
As of right now, next week looks storm free with it getting colder in steps. Monday will be the warmest day with highs in the 50s. Temperatures will then fall into the 30s by midweek.  The pattern looks active and cold, snow lovers, as we head deeper into December.
You know where to find a no hype, no nonsense forecast.
Stay tuned.
Today:
Sun and clouds. Showers possible by sunset. Highs in the mid 40s. Northeast to East winds at 5mph.
Tonight:
Rain. Areas of fog. Lows in the lower 40s in the City, the mid 30s inland. East wind at 5-10mph.
Sunday:
Morning rain tapering off to scattered showers. Remaining mostly cloudy. Warm. Highs in the 50s to around 60º.
Monday:
Partly sunny and mild. Highs in the lower to mid 50s.
Tuesday:
Partly sunny, colder. Highs in the lower 40s.
Wednesday:
Partly sunny and cold. Highs in the upper 30s.
Keep it here for a no nonsense, no hype forecast.