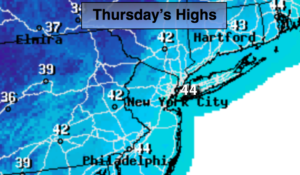 Synopsis:
The wind will continue to be the main weather feature into today. A strong storm over the Canadian maritimes and high pressure to the west is the blame for the gusty wind. A mix of sun and clouds is expected. Winds will diminish during the afternoon.
By Friday more tranquil conditions can be expected with sun giving way to clouds. A few light showers can't be ruled out in the afternoon as a weak disturbance works in from the West. Temperatures through Friday will be several degrees below the average high of 50º.
The next chance of precipitation will be later Saturday afternoon. It'll be warm enough for rain as we turn the page to December. Sunday, the forecast calls for morning showers as a low works through the Great Lakes and into Canada. This is a warm storm track for the East coast. Highs on Sunday may touch 60º in spots.
There has been chatter about a "snow event" for Tuesday or Tuesday Night. It is way to early to pinpoint where the low MAY set up along East coast-If it even happens.
You know where to find a no hype, no nonsense forecast.
Stay tuned.
Today:
Sun and clouds. Breezy. Highs in the lower to mid 40s. Northwest winds at 15-25mph with higher gusts this morning. The winds will diminish some this afternoon.
Tonight:
Partly cloudy and cold. Lows in the mid 30s in the City, the 20s inland. Northwest winds less than 5mph.
Friday:
Morning sun, afternoon clouds. Spotty late afternoon showers are possible. Highs in the lower to mid 40s.
Saturday:
Morning sun. Showers developing toward sunset. Highs in the upper 40s.
Sunday:
Morning showers. Some afternoon sun. Warm. Highs in the 50s to around 60º.
Monday:
Partly sunny and mild. Highs in the lower to mid 50s.
Keep it here for a no nonsense, no hype forecast.