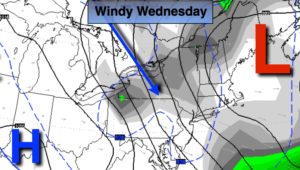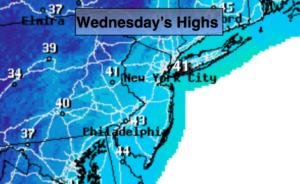 Synopsis:
The wind will be the top story. A strong upper level low over the Northeast/Eastern Canada and high pressure to the South will cause a tight pressure gradient. The first map above shows lines of equal pressure (isobars). The closer the isobars are together, the tighter the pressure gradient, the higher the winds. Winds could gust between 40-50mph today. Please sure any loose articles outdoors.
Spotty morning snow showers are possible today, especially North of the City as upper level energy works through, otherwise it'll be mostly cloudy, very windy and cold. The winds will be busy on Thursday, but not as strong.
Friday will be tranquil under a mix of sun and clouds. Temperatures through Friday will be several degrees below the average high of 50º.
The next chance of precipitation will be later Saturday. It'll be warm enough for rain as we turn the page to December. Sunday, the forecast calls for morning showers as a low works through the Great Lakes and into Canada. This is a warm storm track for the East coast. Highs on Sunday may reach well into the 50s.
You know where to find a no hype, no nonsense forecast.
Stay tuned.
Today:
Mostly cloudy, very windy and chilly. Highs in the lower 40s. West to Northwest winds at 15-30mph with gusts between 40-50mph.
Tonight:
Partly cloudy, windy and cold. Lows in the mid 30s in the City, around 30º inland. Northwest winds at 10-20mph with gusts to 30mph.
Thursday:
Partly sunny and breezy. Highs in the lower to mid 40s.
Friday:
Partly sunny. Highs in the mid 40s.
Saturday:
Morning sun. Chance of afternoon rain. Highs in the upper 40s.
Sunday:
Morning showers. Some afternoon sun. Mild. Highs in the mid 50s.
Keep it here for a no nonsense, no hype forecast.