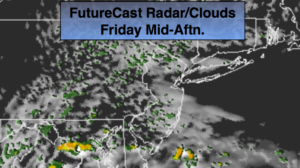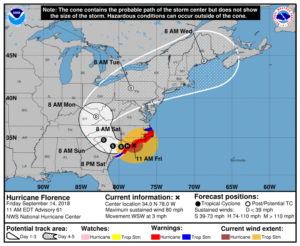 Synopsis:
Moisture trapped at the surface will be responsible for our grey, damp day. High pressure over New England should bring somewhat drier air into our area this afternoon. Skies may brighten for a time this afternoon.
The weekend, at this time, looks decent with seasonal temperatures and a fair amount of sunshine. Rough surf and dangerous rip currents will definitely be an issue because of Hurricane Florence.
Hurricane Florence has made landfall near Wilmington, North Carolina and continues to drift South and West. Florence, as of this writing, is a now Category 1 status with winds of 80mph.
The models will continue to steer Florence in a very unusual direction-to the Southwest through Saturday into  South Carolina. This is due to extensive high pressure to the North of the storm pushing it in that direction. Extreme rainfall amounts will occur over parts of North and South Carolina. A catastrophic flooding event is possible. 20″-40″ of rain is likely.
The remnants of Florence will most likely affect the area on Tuesday. Periods of rain and scattered thunderstorms are possible.
You know where to find a no hype, no nonsense forecast.
Stay tuned.
Today:
Areas of patchy drizzle, otherwise mostly cloudy. Highs in the mid to upper 70s. East to Northeast wind at 5-10mph.
Tonight:
Mostly cloudy. Patchy fog. Lows in the 60s. Light East to Northeast wind.
Saturday:
Morning clouds and patchy fog. Becoming partly sunny. Highs around 80º.
Sunday:
Mostly sunny. Highs around 80º.
Monday:
Sun giving way to clouds. Highs around 80º.
Tuesday:
Periods of rain and thunderstorms. Humid. Highs in the upper 70s.
Keep it here for a no nonsense, no hype forecast.