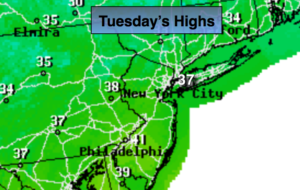 Synopsis:
Winter will return for a short visit. High pressure over the Great Lakes will move toward the East coast bring cold temperatures and sunny skies Tuesday.
The high will move off the coast Wednesday. The return flow will bring in up mild air from the South through the end of the week. It'll be a Spring preview around here by Thursday and Friday. Scattered showers are likely  both days. A front will slip to our South by Friday ending the well above average temperatures by next weekend.
There is no threat of snow looking at the long range models. The pattern is garbage for snow lovers. A strong Southeast ridge will hold firm and this will cause readings to once again feel like Spring early next week.
Stay tuned.
Today:
Sunny. High in the mid to upper 30s. North to Southeast winds at 5mph.
Tonight:
Mostly clear early, more clouds late. Lows in the mid 30s in the City, the 20s inland. Southeast to Southwest winds at 8-12mph.
Wednesday:
More clouds than sun. Mild. Highs around 50º.
Thursday:
More clouds than sun. Chance of showers. Balmy. Highs in the upper 50s.
Friday:
Mostly cloudy. Chance of showers. Mild. Highs in the lower 50s. Falling temperatures are expected during the afternoon.
Saturday:
Sunny and cold. Highs in the mid 30s.
Keep it here for a no nonsense, no hype forecast.