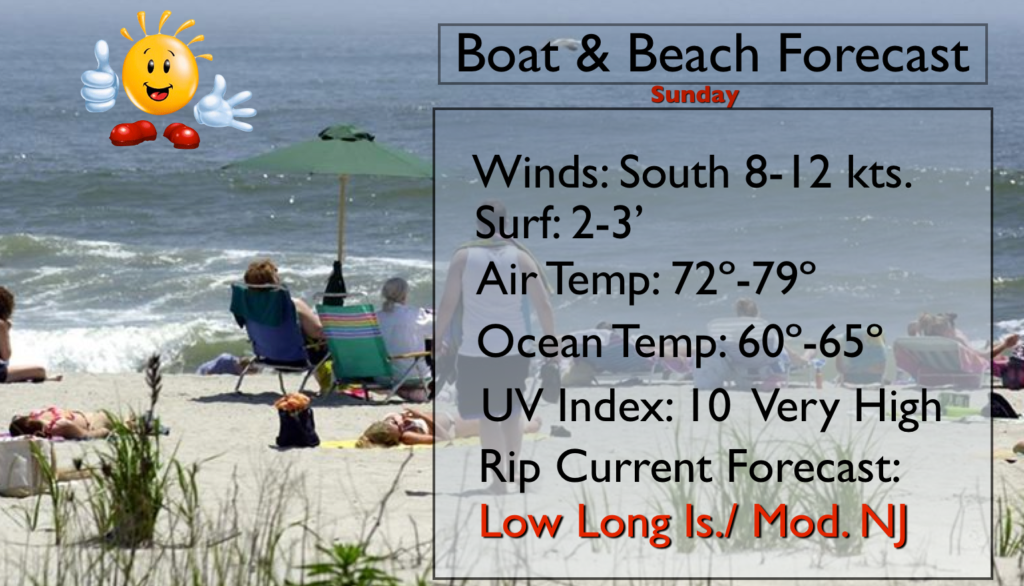 Synopsis: 
High pressure will continue to dominate our weather through Father's Day and into Monday.  A weak cool front will move through the region later Tuesday.  Above average temperatures are expected through the beginning of the week.  A slightly cooler airmass will move in for mid to late week.
Father's Day:
Sunny and warm.   Highs in the mid to upper 80s.  Cooler at the coast.  South to Southeast wind at 10-15mph.  Slather on the sunscreen.
Tonight:
Clear.  Lows near 70º in the City, the mid 50s to mid 60s inland.  Light Southeast wind at 5mph.
Monday:
Mostly sunny and warm with highs in the upper 80s.  Summer arrives at 6:34PM.  At this time the sun direct rays are at the farthest Northern point in the Northern hemisphere- at the Tropic of Cancer 23.5ºN.
Tuesday:
Partly sunny.  A spot morning shower is possible.  Highs in the mid to upper 80s.
Wednesday:
Partly sunny and less humid with readings in the lower 80s.
Thursday:
Partly sunny and seasonal with highs around 80º.
Stay Tuned.
Keep it here for a no nonsense, no hype forecast.